26+ Backsplash for Espresso Cabinets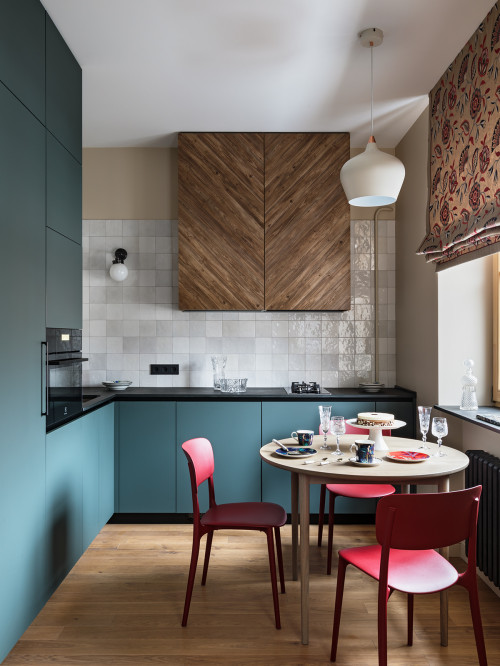 ID# 166713 | Houzz.com – Credit | © Erashevich studio_Ерашевич Алёна
---
L-shaped Kitchen with Dark Turquoise Cabinets
With its dark turquoise cabinets, this small L-shaped kitchen radiates beauty! The black countertop contrasts beautifully with the white square backsplash tiles while perfectly complementing the cabinets. The upper, brushed-wood cabinet attracts the eye right away and takes the spotlight. It also matches the brown floor. Additionally, the absence of handles and the plain design of the cabinets enhances the modern atmosphere.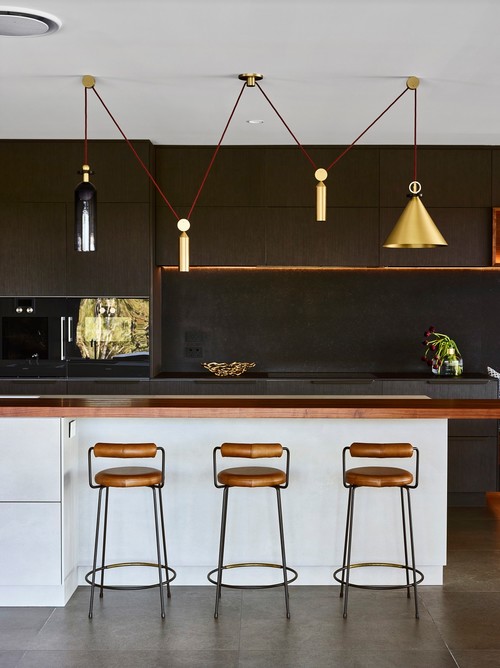 ID# 166716 | Houzz.com – Credit | © Darren James Interiors
---
Wood Flat-panel Cabinets With White Island
The dark brown backsplash and countertops complement each other, harmonizing with the dark wood flat-panel cabinets, creating a continuous effect. The classy ambiance of this contemporary kitchen is enhanced by this continuous effect. Modern accents and the wood surface of the white island, on the other hand, create a sophisticated luxury!
Backsplash for Espresso Cabinets
It is a warm-toned paint that comes into our lives as an espresso color and beautifully complements today's preferred neutral color palettes. And, incorporating this elegant shade into your kitchen through your cabinets can easily create the wow effect that you want! While you decided on the kitchen cabinet color, it's time to consider backsplash options. Espresso kitchen cabinets work well with classic whites, creams, cool blues, greens, silvers, and blacks to create beautiful, elegant designs. It can also be combined with red colors for bolder designs. To find more inspirational design ideas, scroll down and check these article which includes backsplash for espresso cabinets ideas!
Find Elegant Backsplash Designs for Your Espresso Cabinets!
Thanks to their neutral shade, espresso cabinets match perfectly with almost any color. In this way, the range of backsplash options is opened, and unlimited varieties suitable for the desired taste emerge. Successful designs are made with material types such as ceramics, glass, and stone, with the most suitable choices for taste and space. It is very suitable for giving light and dark contrast, it is a great advantage that you can create contrast with the color you want. It is a classic, traditional color choice that never goes out of style, bringing warmth and tenderness to your kitchen.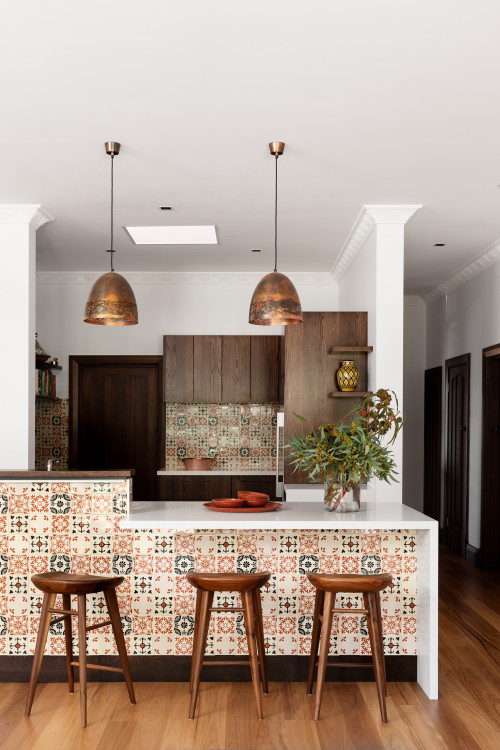 ID# 166701 | Houzz.com – Credit | © Peter Schaad Design Studio
---
Ceramic Mosaic Tile Backsplash for Espresso Cabinets and White Countertops
The glass mosaic tiles in this Mediterranean kitchen radiate a cozy and rich atmosphere. The vibrant colors of nature, such as the blues, yellows, and greens, serve as the inspiration for the Mediterranean style. The backsplash catches the eyes and becomes the visual focal point with the multicolor pattern tiles. The mosaic-look glass tiles are in harmony with the white countertop and espresso kitchen cabinets. The complex structure of the kitchen tiles pulls attention brilliantly rather than wearing the eyes out thanks to the plain white walls and countertop.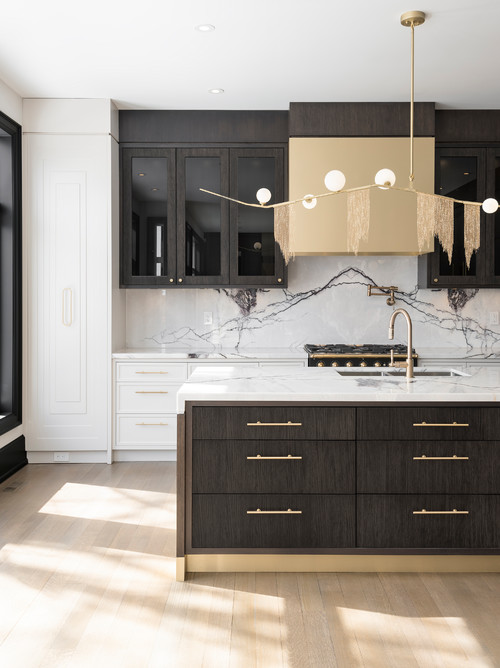 ID# 166702 | Houzz.com – Credit | © Drake+Khan Design
---
White Marble Backsplash for Espresso Cabinets and Gold Accents
Marble is one of the most luxurious backsplash materials you can choose. A marble backsplash can easily match your expectations with its natural charm and luxurious atmosphere. You can even make them with the same slab as your new marble countertop as it is in this kitchen. Therefore, marble backsplash can flow with the grain of your countertop. While marble countertops and white lower cabinets create a continuous aesthetic, dark espresso upper cabinets create a contrast in this kitchen. Also, the golden hood and other golden accents are not overlooked, giving the kitchen an even more luxurious atmosphere!!
How to choose a backsplash for espresso cabinets?
When selecting the backsplash for espresso cabinets, first identify the type of cabinets, such as flat-panel, shaker, or raised-panel, and then expose the overall idea of the kitchen. The breadth of the space and the level of illumination are other important considerations when choosing a backsplash. While white, gray, and black are the most fashionable colors, green and blue complement espresso cabinets.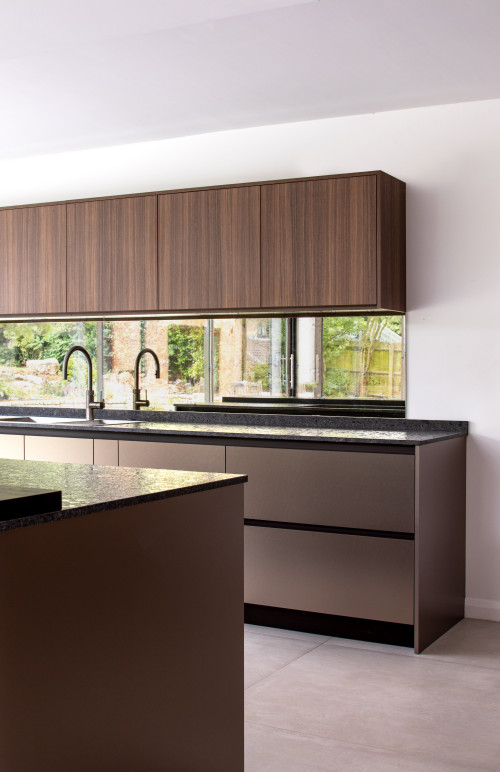 ID# 166703 | Houzz.com – Credit | © Galerie Design
---
Two Tone Kitchen Cabinets with Beige Porcelain Floor Tiles
In this contemporary kitchen, a mirror has been applied along the countertop to the bottom of the upper espresso cabinets. The mirror backsplash in this kitchen creates a contrast with the dark espresso cabinets, which catches a sense of balance. A mirror backsplash not only gives your kitchen a fashionable and modern appearance but also gives the room dimension, which boosts the area. With its modern vibe and reflected qualities, a mirror backsplash may be an excellent upgrade for your kitchen! Moreover, mirror backsplashes are well known for being incredibly low maintenance and easy to keep clean.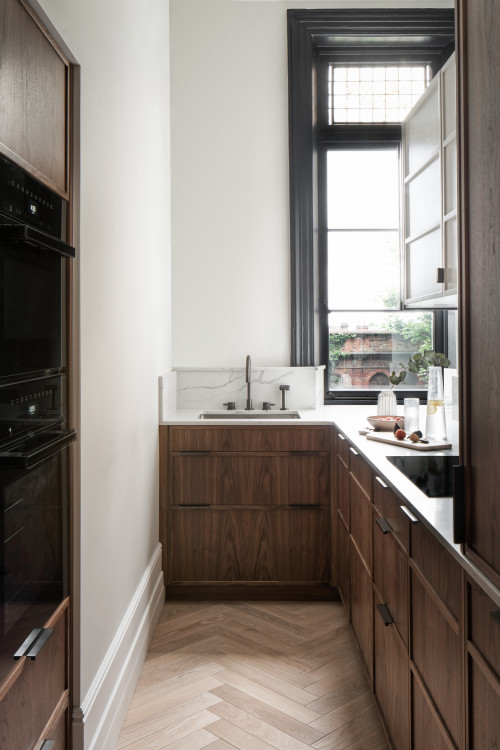 ID# 166704 | Houzz.com – Credit | © NW3 Interiors Ltd
---
4-inch Marble Backsplash for Espresso Cabinets and Marble Countertop
It's not always necessary to choose a backsplash for your kitchen that covers the whole area between your cabinets. Instead, you can choose a backsplash that goes a quarter or halfway up the wall, as it is in this narrow kitchen. These half backsplashes usually have a tiny ledge or shelf on top, which provides a simple transition from the counter to the wall and provides protection from splatters running between the two!! The counter in this small yet stylish kitchen is made of white marble. That same white marble rises up and creates a border along the length of the counter. While the backsplash and countertop are perfectly in harmony with the white wall behind it, dark cabinets break it with contrast.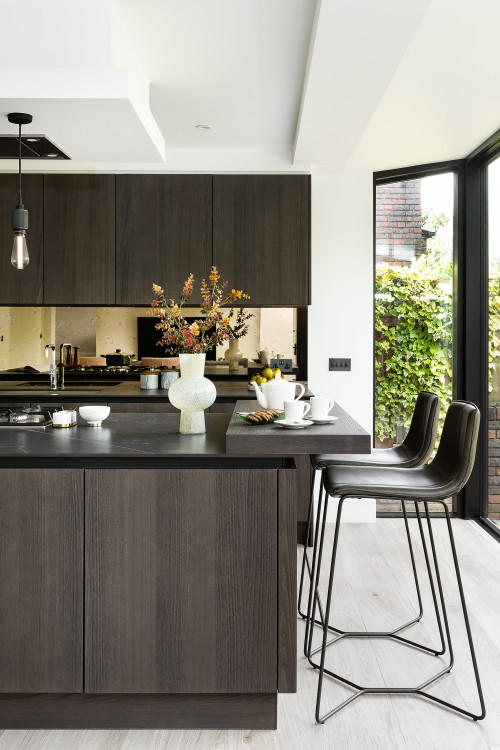 ID# 166705 | Houzz.com – Credit | © Veronica Rodriguez Interior
---
Modern Kitchen with Dark Cabinets and Countertops
This modern kitchen delivers a sleek look with its beautiful dark wood cabinets! The use of a mirror backsplash in between the cabinets creates a contemporary and chic appearance. If you want to use a warmer tint, gold mirrors, like the ones in this kitchen, can be a better option than a regular mirror. The gold mirror backsplash creates a harmonious look with the modern style of the dark cabinets and brings unity with a warm color scheme. Also, the LEDs used under the lower cabinets add another layer to the environment and increase the luxurious and warm atmosphere.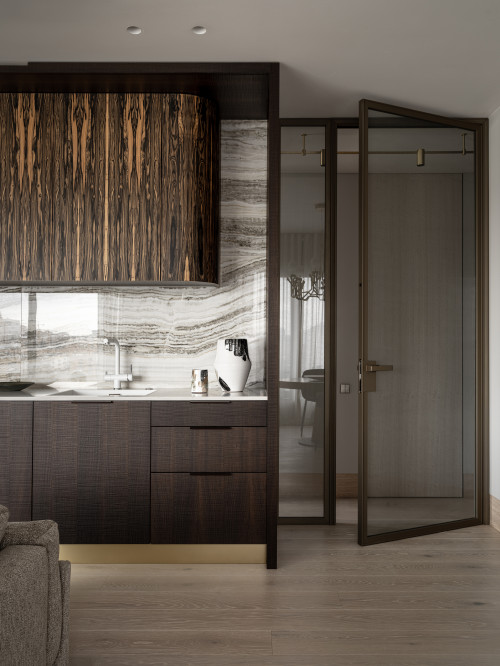 ID# 166706 | Houzz.com – Credit | © FRUKTOV INTERIORS
---
Contemporary Kitchen with Dark Wood Cabinets and Marble Slab Backsplash
In this modern open kitchen, the white marble backsplash creates a more spacious and airy ambiance among the dark cabinets. Moreover, the upper wood cabinets give off a unique vibe and add another layer to the luxurious environment! The white countertop with the marble backsplash achieves a continuous look.
Backsplash Color Options for Espresso Cabinets
Considering the overall style and idea of the room, espresso cabinets may provide beautiful, fashionable, and cool designs with material from an infinite number of backsplash possibilities. The wonderful thing about espresso cabinets is that they complement both chilly and warm tones.
White, gray, black, and beige hues go well with espresso cabinetry. White, gold, and gray tones may look great on counters. Gray-green backsplashes, for example, can be used with white tiles or oak flooring. They also use stainless steel tools and brass hardware to produce harmonized and attractive poses.
Espresso cabinets feature dark tones that work well with bright hues. It also works nicely with dark hues if the kitchen theme is balanced with light accents and decorations. Because espresso is a warm hue, it may be toned down with blue and cold gray.
White Backsplash for Espresso Cabinets
The timeless effects of white backsplashes, always appeal to every user, making it the first choice by everyone. Espresso cabinets, on the other hand, are dark brown tones and are a stylish cabinet type with a weight!
Espresso cabinets with a white backsplash are a fresh and elegant choice for providing the perfect contrast between light and dark. Whatever your style, a variety of white backsplash options are available to match cabinet types. Espresso cabinets are selected in different sizes, patterns and shapes. With this duo, modern and clean looks are provided. The elegant stance of white provides dazzling effects with dark coffee espresso cabinets.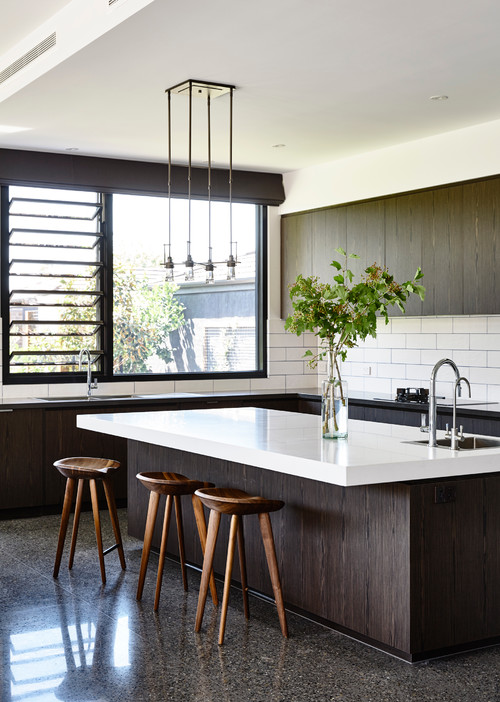 ID# 166707 | Houzz.com – Credit | © Camilla Molders Design
---
White Subway Tile Backsplash for Espresso Cabinets and Quartz Countertops
Subway tiles are timeless and adaptable materials that blend nicely with many types of decoration styles. Subway tile is therefore a popular option for kitchen backsplashes. These tiles create a clean and safe impression that goes really well with many different decorating styles. In this stylish kitchen white subway tiles create a spacious area between the dark countertop and cabinets. Additionally, this symmetrical design of the subway tiles gives a clean, organized look that creates a calm environment for busy spaces like kitchens.
What backsplash looks good with dark brown cabinets?
A white subway tile kitchen backsplash can look great with dark brown cabinets. Contrast achieves harmony. The clean stance of the white color provides a harmonious transition to dark browns. Another alternative is a gray quarter worktop and some pendant lighting for an eye-catching kitchen look. Using dark brown cabinets in dark tones creates a dark, cool and sophisticated ambiance. Always in the first place, white subway tile is one of the most popular kitchen backsplash ideas for dark cabinets.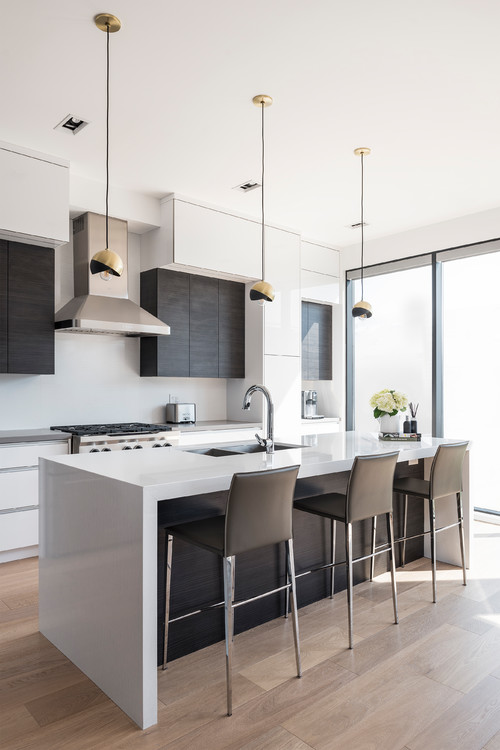 ID# 166708 | Houzz.com – Credit | © RZ Interiors
---
Plain White Backsplash with Dark Gray and White Cabinets
The white backsplash creates a bright and spacious ambiance between dark flat-panel upper cabinets and a gray countertop. The backsplash and bottom cabinets are separated by a layer of gray marble, which softens the transition. The dark upper cabinets, seats and wooden table contrast with the white backsplash and lower cabinets which enhance the environment's brightness!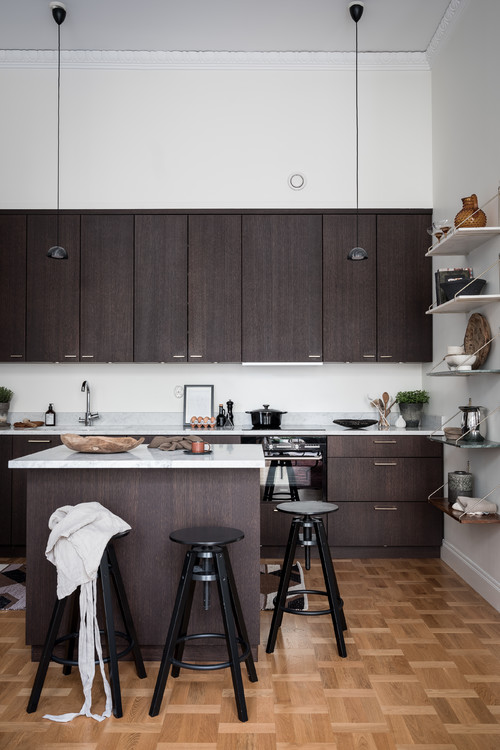 ID# 166709 | Houzz.com – Credit | © Bjurfors Göteborg
---
Espresso Cabinets with White Countertop in Scandinavian Kitchen
In this cozy Scandinavian-style kitchen, the backsplash doesn't go all the way up between the cabinets. Both the backsplash and the countertop are marble which gives an uninterrupted look. The backsplash also creates an airy vibe with the plain white wall. Dark espresso cabinets beautifully contrast with the light countertops and backsplash.
Is espresso cabinets out of style?
It is a classic, traditional color choice that never goes out of fashion and brings warmth to the kitchens where it is applied!! Espresso kitchen cabinets combine elegance and comfort in traditional and modern styles with various variations shaped according to the wishes of the users. It also makes the kitchen feel like a friendly family space, not just a functional workspace.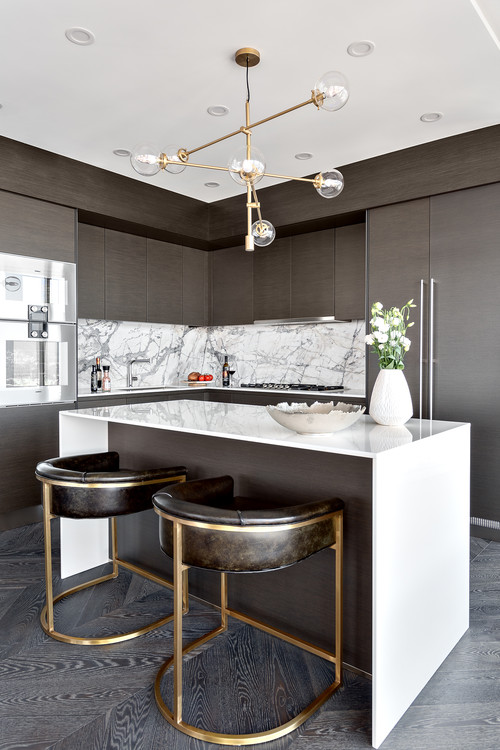 ID# 166710 | Houzz.com – Credit | © Beyond Beige Interior Design Inc.
---
Contemporary Kitchen with Espresso Cabinets and Marble Backsplash
With its natural charm and luxurious sense, a marble backsplash can be the focal point of your kitchen. The white marble backsplash not only draws attention but also gives the kitchen an expensive feeling. The handless dark wood cabinets add contrast while enhancing the sense of modernity! The marble backsplash also breaks the simplicity of the plain handless cabinets used in the kitchen through the eye.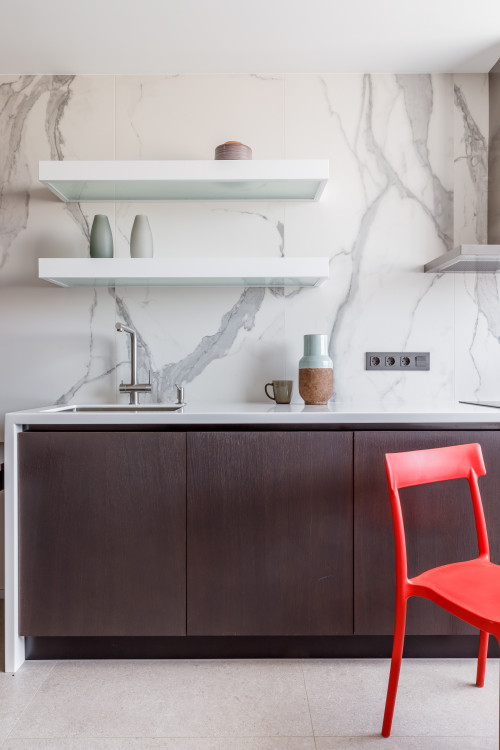 ID# 166711 | Houzz.com – Credit | © MAKEdesign
---
Contemporary Open Shelving Kitchen with Large Porcelain Wall Tiles
Sometimes backsplash not only covers the area between the cabinets but the whole wall. A stunning marble textures porcelain tile is used as a backsplash in this sleek and contemporary kitchen. A modern and chic way to use wall space for storage is using floating shelves. They are also among the quickest and simplest ways to improve the appearance of your kitchen! The white floating shelves complement the white countertop while achieving harmony with the marble backsplash. On the other hand, the espresso cabinets perfectly complete the modernity in the kitchen. The red stool gives this, otherwise too-serene kitchen décor, a lively and modern ambiance. However, it doesn't damage the kitchen's visual harmony. Instead, it builds up the space's bold personality.
Gray Backsplash for Espresso Cabinets
Gray backsplashes also come in a wide variety of material options. In this way, they provide different looks, surfaces, and textures that can suit different design aesthetics. Glass, porcelain and ceramic tiles are also other materials that offer beautiful looks. Among the unlimited gray backsplash options, it is a good idea to do good research to find the model that best fits with espresso cabinets. The style of the cabinets and the general concept of the space is an important factor in choosing. For example, if it is a dark environment, we can make the space a little more spacious by choosing the backsplash from light grays, or we can boldly match it with dark tone grays in a very bright space. In short, the gray backsplash and espresso cabinets are a very successful pair.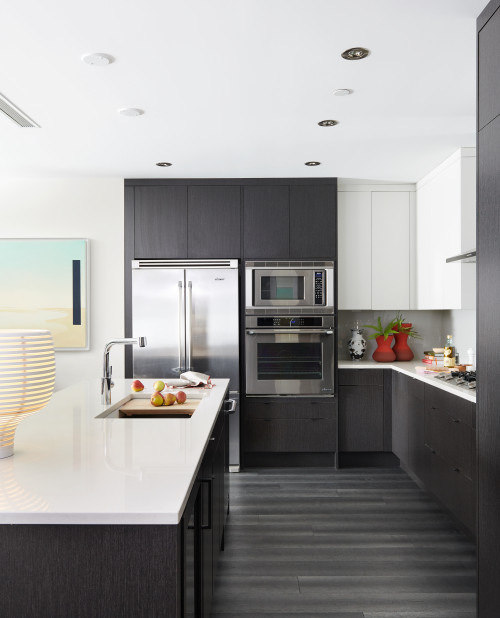 ID# 166712 | Houzz.com – Credit | © Patti Rosati Interiors
---
White Countertop and Backsplash with Dark Wood Cabinets
This functional kitchen is defined by dark wooden cabinets which deliver a contemporary and opulent appearance! The dark cabinets wonderfully create contrast while the white countertop, backsplash, and upper cabinets create a light and airy atmosphere. Additionally, dark wooden lower cabinets continue the harmony with dark floors.
What color are espresso cabinets?
Espresso cabinets are characterized by their rich dark brown color. While they aren't quite as popular as white cabinets, they still hold a strong second place. Espresso kitchen cabinets harmonize beautifully with classic whites and creams, as well as cool blues, greens, and vibrant shades of reds, silvers, and blacks.
What countertop goes with espresso cabinets?
Espresso cabinets work very well with golds, creams, and even bright yellows. If you have the right granite, there's no reason why espresso cabinets shouldn't make for a bright and sunny kitchen at home. At the same time, white, gray, and black countertops also harmonize with espresso cabinets.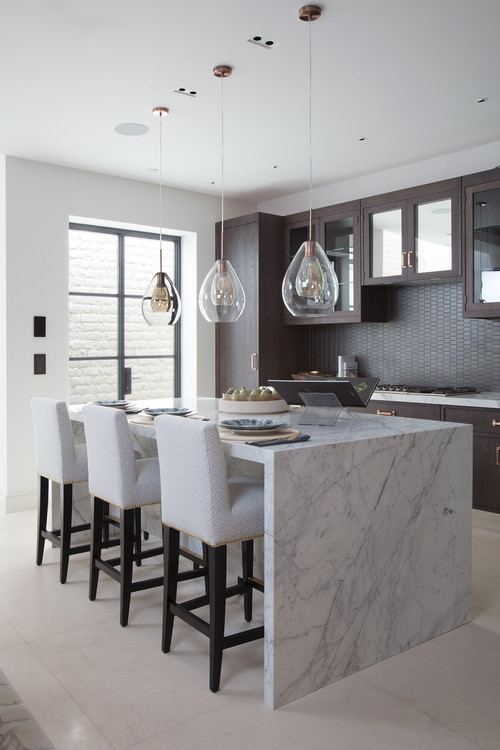 ID# 166714 | Houzz.com – Credit | © Elayne Barre
---
Glass-fronted Dark Cabinets and White Waterfall Marble Island
Hexagons, depending on their size and color, may give your kitchen a trendy and timeless aesthetic. For example, in this modern kitchen, the black hexagon backsplash is used to create a basic, yet textured region between the cabinets while including a biophilic pattern! The black backsplash, along with the dark espresso cabinetry, produces an exquisite homogeneity. Glass-fronted cabinets, like shown in this kitchen, may improve your design and make it more aesthetically pleasing. The black backsplash and cabinetry are offset by the white marble worktops and kitchen island.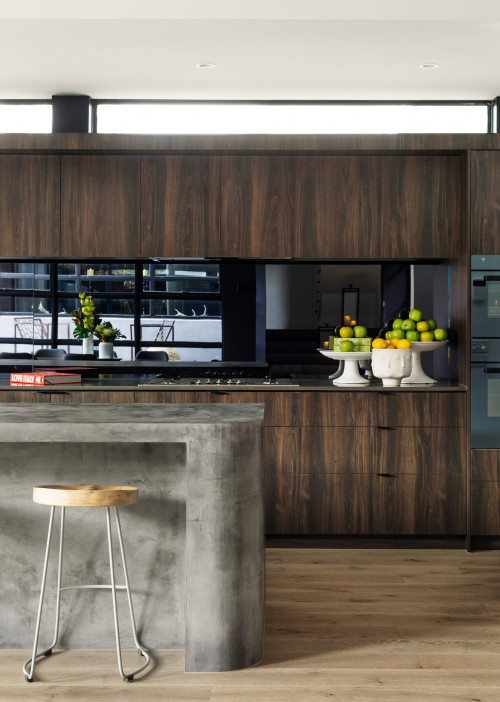 ID# 166715 | Houzz.com – Credit | © Alternative Surfaces
---
Dark Wood Cabinets with Concrete Island in Contemporary Kitchen
While the concrete island draws attention, the high glossy black backsplash is also noticeable in this contemporary kitchen. The dramatic glossy black backsplash creates a strong impression. Because of its darkness, it doesn't break the harmony and instead provides a more spacious feeling thanks to its reflection and height.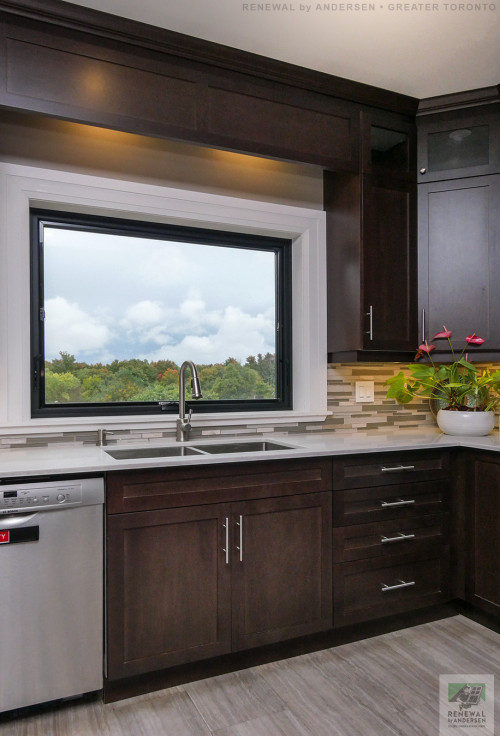 ID# 166717 | Houzz.com – Credit | © Renewal by Andersen Toronto
---
Espresso Cabinets with Window Backsplash
One of the creative and original ways to design your new kitchen is using windows as a backsplash. Instead of traditional tile or stone, you can have a view of the outside with the window backsplash. This stunning kitchen with dark wood flat panel cabinets for instance, looks gorgeous with the huge black window over the double sink. Utilizing a window backsplash will allow you to brighten your kitchen with lots of natural light. Plus, glass windows can be kept sparkling clear all the time because cleaning them only requires a quick swipe of a rag. The feeling of space is also improved thanks to the shiny look of the tiles.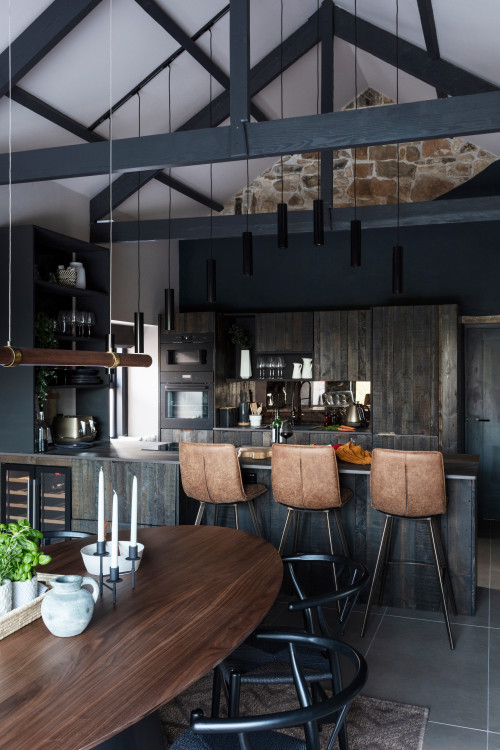 ID# 166718 | Houzz.com – Credit | © Studio Dean
---
Modern Rustic Kitchen with Vaulted Ceiling and Dark Color Scheme
This sleek open kitchen combines contemporary design with a rustic vibe!! The mirrored backsplash stands in contrast with the rustic character of the cabinets while dark countertops, dark wood cabinets, and leather stools offer a luxurious ambiance. The stone wall along with the exposed black-painted beams also highlights the rustic ambiance in the kitchen.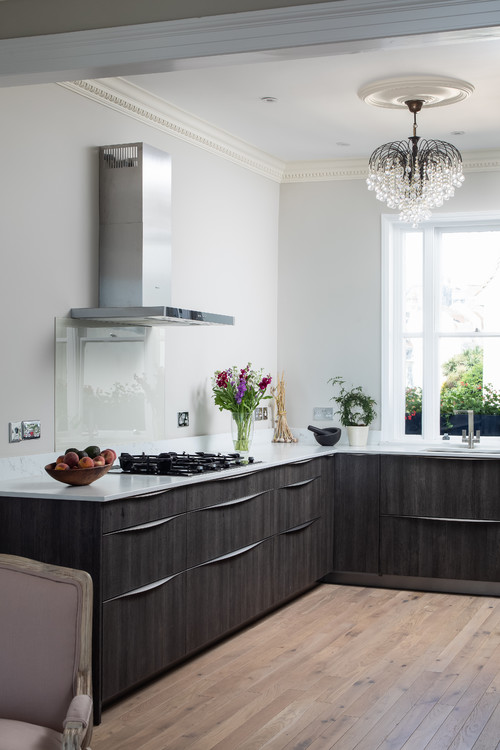 ID# 166719 | Houzz.com – Credit | © Elixir Interior Design
---
Transitional Kitchen with Dark Wood Cabinetry and White Countertop
This hand-painted transitional kitchen conveys an elegant look with simplicity. Dark wood cabinets appear in sharp opposition to the clean white walls and countertops. Although the clear glass sheet backsplash doesn't cover the whole kitchen, it covers the behind of the stove to prevent possible splashes. The sophistication of pure white is also complemented by the white backsplash and countertops, which also provides a fresh environment. The plain white walls make the environment look clean and bright, while the large window behind the sink creates a natural light source.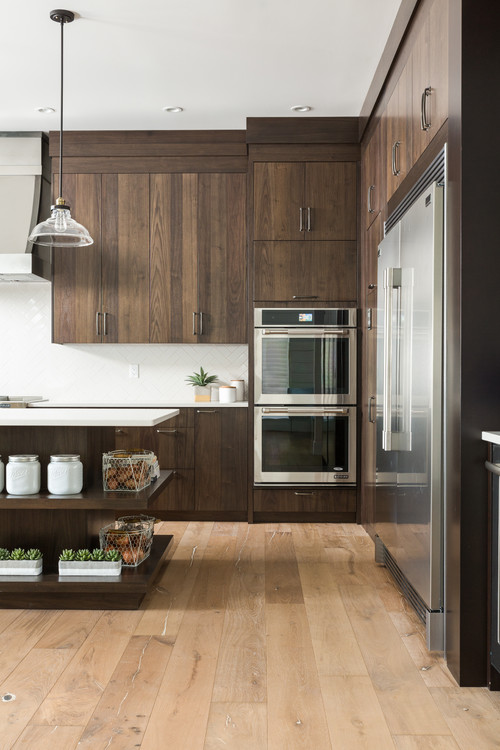 ID# 166720 | Houzz.com – Credit | © Ateliers Jacob Kitchens & Spaces Calgary
---
Contemporary Kitchen with White Herringbone Tiles and Stainless Steel Appliances
A harmonious pattern scheme may unite your interior, adding interest, stamina and contrast to your kitchen! For instance, the herringbone pattern offers a balanced and outstanding composition that is frequently connected to an urban and contemporary style, while also producing a dimensional and dynamic visual. The white herringbone backsplash matches the white countertop and island in this modern design. The white herringbone tiles also provide a bright space between the dark cabinets.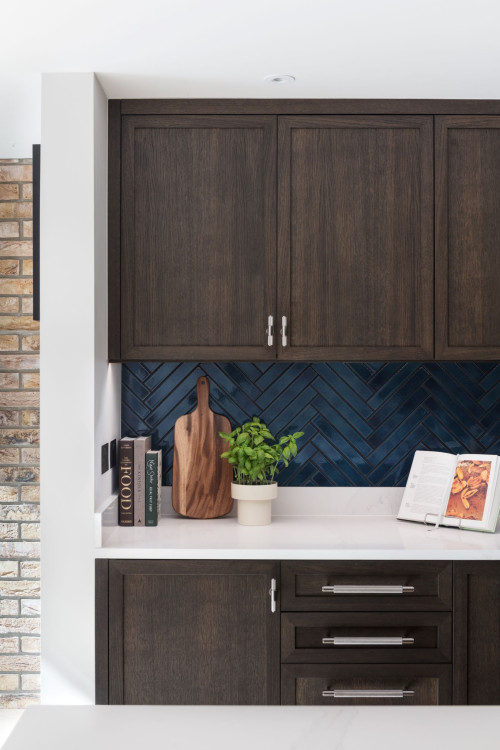 ID# 166721 | Houzz.com – Credit | © Margot Tsim Interiors
---
Dark Blue Herringbone Backsplash for Espresso Cabinets and White Countertop
Herringbone tiles are an adaptable choice for building a timeless surface and this trendy kitchen design makes good use of the stunning visual contrast between blue and brown! The captivating blue color of the herringbone tiles creates an outstanding look. Dark blue tiles become the focal point in the kitchen while the white countertops and island add a further layer of elegance.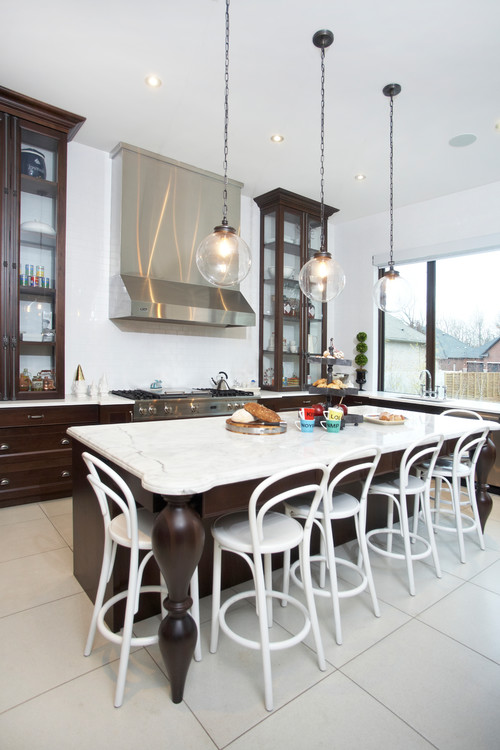 ID# 166722 | Houzz.com – Credit | © Façade Interiors & Furniture
---
Traditional Kitchen with Oversized Stainless Steel Range Hood
If you want a safe look, white subway tiles are the most reliable option. The whole height of the white ceramic subway tiles, as in this design, produces a dramatic visual impression. The range hood perfectly completes the design, adding an industrial feel to the brick-effect wall tiles!! On the other side, the white marble countertops of the island give it a more opulent feel.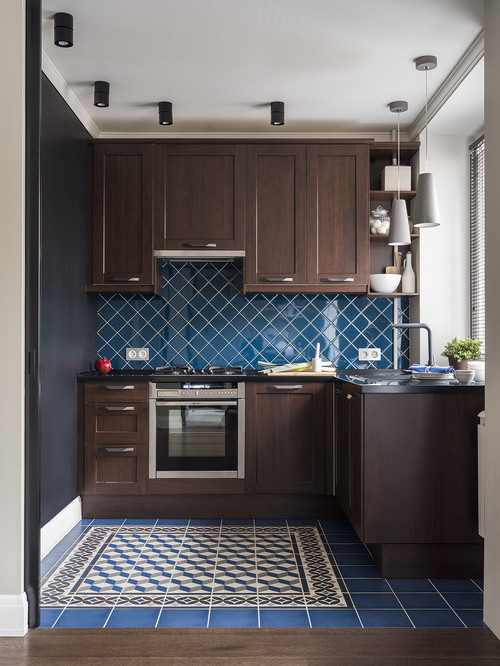 ID# 166723 | Houzz.com – Credit | © KorenevaZhadanDesign
---
Modern Kitchen with Dark Wood Cabinets and Dramatic Diamond Dark Blue Tiles
This contemporary kitchen remodel is mainly characterized by a dark blue backsplash with matches the floor. Espresso shaker cabinets and dark blue diamond tiles work in perfect harmony and produce a bold appearance. These dark shaker cabinets also maximize storage capacity to make up for the smallness of the kitchen by reaching the ceiling. It also keeps its aesthetic appearance while doing so. The black countertop, on the other hand, harmonizes the design while matching the wall. Despite the dark design of the small kitchen, the window above the sink helps to create an airy ambiance by providing natural light.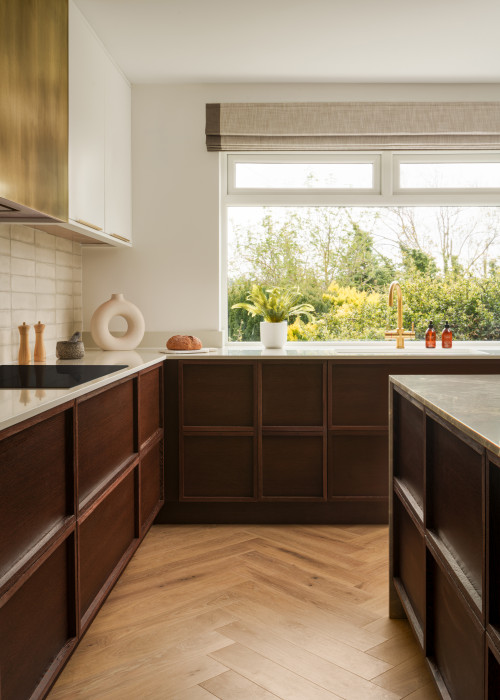 ID# 166724 | Houzz.com – Credit | © Dauley Design
---
White Subway Tile Backsplash for Espresso Cabinets and Gold Accents
Dark wooden lower cabinets add depth to the design, which is dominated by light colors. The low cabinets also create a continuous appearance with the wood floor. The simplicity and elegance are furthered by the white subway tile backsplash which perfectly blends with the white countertop. Gold accents on the other hand, add a sense of luxury to the contemporary kitchen. The huge window behind the sink has made the already airy ambiance even more spacious.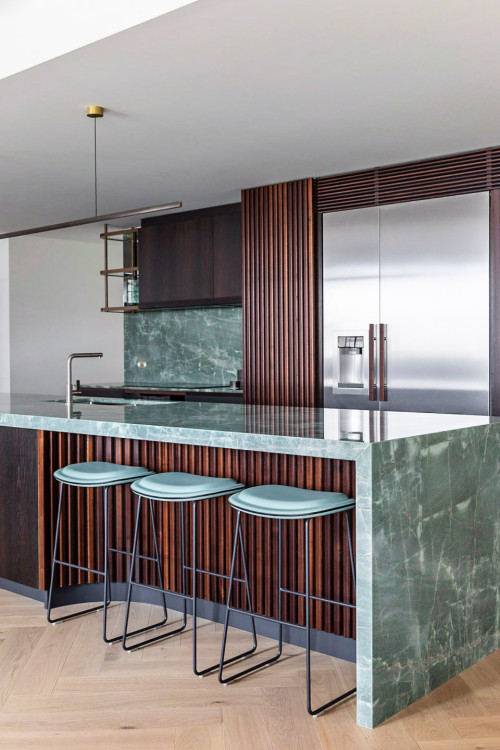 ID# 166725 | Houzz.com – Credit | © Matter Design & Make Pty Ltd
---
Oak Veneer Cabinets with Green Marble Slab Backsplash and Countertops
A green backsplash can be the ideal option for you if you want to give your kitchen a dramatic appearance. Your kitchen can become an appealing spot with a green marble backsplash. Considering its elegance and functionality, cooking in this modern kitchen has to be a luxurious and elevated experience. Modern oak veneer cabinets look delicate and sophisticated with their clean lines. Their dark color strengthens and adds a sleek feel to the overall design. The gorgeous green marble backsplash and countertop complement the dark cabinetry smoothly. The island draws attention and creates an eye-catching focal point, giving the kitchen an updated appearance. The green stools finally, match the green marble surfaces and the captivating texture of the oak veneer cabinets, finishing the contemporary design.
Natural Stone Mosaic Tiles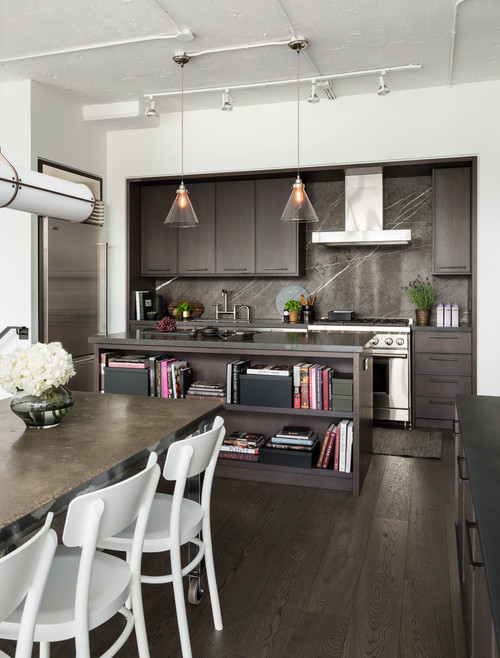 ID# 166726 | Houzz.com – Credit | © Croma Design Inc.
---
Industrial Kitchen with Dark Marble Backsplash for Espresso Cabinets
This kitchen has a remarkably sleek and modern appearance. Despite the dark surfaces, a delicate balance of contrasts is achieved thanks to the smart use of plain white walls. The dark timber cabinets and the dark marble backsplash in this industrial kitchen, which radiates elegance, work together to create a balanced and cohesive design. The kitchen has a sophisticated and contemporary appearance caused by the dark surfaces. A rich, warm, and incredibly appealing environment is created by the dark marble backsplash. The all-black countertop on the other hand, blends well with the dark marble backsplash and timber cabinets. The kitchen's sleek design is wonderfully complemented by the industrial feel created by the stainless steel range hood and other raw accents.