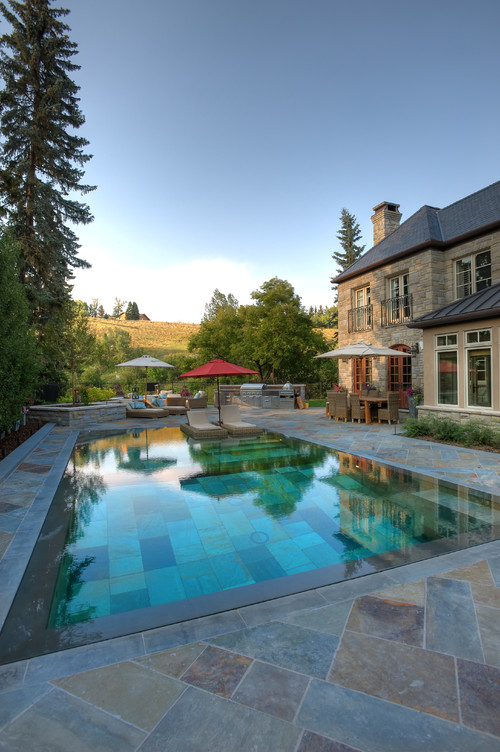 ID# 168402 | Houzz.com – Credit | © VisionScapes
---
Pool Tile Ideas with Stone Patio Tiles
Surrounded by a stone patio, this infinity pool offers an excellent spot to rest and calm your tense muscles. Clad in blue shaded square tiles, it performs color therapy even before getting into the pool. The tub is also masterfully surrounded by expansive heated stone tiles to allow the households to swim year round!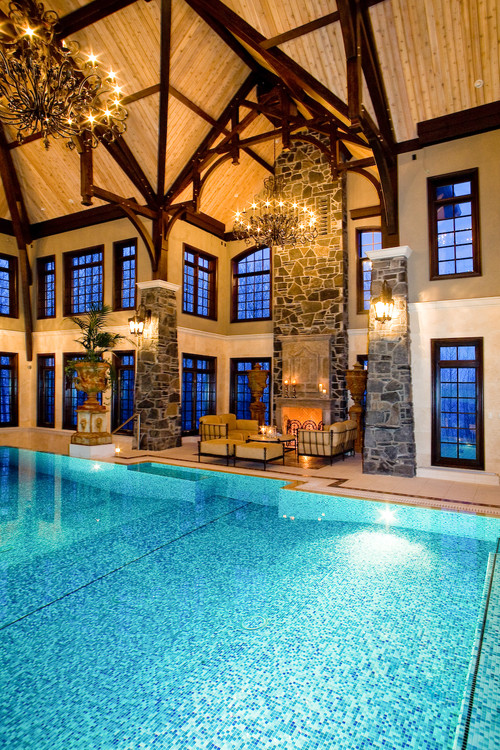 ID# 168412 | Houzz.com – Credit | © Rocky Mountain Pools & Spas Ltd
---
Mosaic Pool Tile Ideas for Traditional House
In this traditional atmosphere, the pool introduces a burst of color to the otherwise neutral look of the house. The blue mosaic pool tiles enliven the space truly, highlighted by glamorous chandeliers! At the back, the fireplace which is enriched by a leather seating set, provides a warm and welcoming atmosphere.
Pool Tile Ideas
The hectic schedules of urban life and our daily routines of ours that trap us in a loop necessitate a time for self-reflection and relaxation, which is made possible through the presence of water that contrasts the rigid forms of metropolitan life. Water finds a body through pools, Jacuzzis, and bathtubs that promote a healthy lifestyle and mental and physical relaxation. Given that we have been going through troubled times during the Covid, which disconnected us from the rest of the world, we needed and we still need a gateway somehow. This can be accomplished through the reconfiguration of architectural lines both related to the exterior and interior areas. Pool designs and pool tile ideas can be included among the relaxation spots that should be inspiring and if possible, should engage with the surrounding environment for a sense of connection.
To cut it short, pool tile ideas could make a difference to change our mood and upgrade our backyard as it gains unique color and entity through the presence of water and the sunrays diving into the water and creating optical illusions.
Designing Pools
Pools are interactive agents, constantly responding to the sky and natural lights that change the color of the water of the swimming pools. The first thing to know while designing is how water interacts with colors. Why are the tiles always mostly blue, for example? Well, it is mostly related to the shade of the sky that is reflected by the water. Also, water absorbs other bold colors such as red and orange much easier, while with blue, it is much different. Overall, the depth of the water, whether it is indoor or outdoor, the surrounding environment, and the topography of the land all shape the design of the pools. Therefore, while deciding, there is just so much to consider. But, the color, texture, and materials of the paver, decking, and pool tiles seem to be the most basic elements.
That's why just to make things much simpler and clarified for you, this blog aims to walk you through the pool tile ideas with various projects. Just by looking at pools, you will relax and achieve a sense of calmness. So, if you are ready, just stay with us and be ready to discover some great pool tile ideas.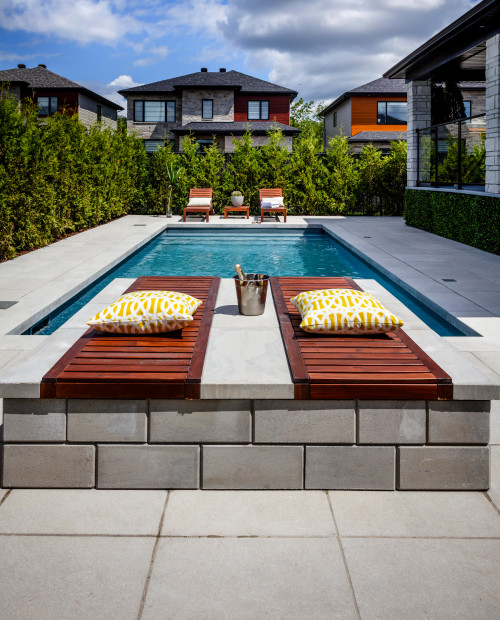 ID# 168401 | Houzz.com – Credit | © Groupe Zamco
---
Contemporary Outdoor Pool Design with Integrated Sunbaths
This waterfront house feels lucky with a modern pool design in the backyard. The pool is enriched by a sunbathing area. The design of the pool sticks to the blue mosaic tiles with one exception. The gray stone tiles surrounded the pool to create a sleek modern appeal. Overall, this pool design without a doubt gives homeowners and guests a spa treatment, releasing the accumulated tension in the body.
What is the best color of tiles for a swimming pool?
Pools, for sure, evoke a sense of peace and serenity while the textures, colors, and rhythm of the water compose a relaxing visual scheme stimulating our five senses and upgrading our mood. This feeling can be enhanced or manipulated through the use of pool tiles of different colors.
Blue colors are for sure the most popular ones as they suggest freedom and run parallel to the sky in a well-coordinated way. Though, they have their subcategories too, to create different impacts. For example, turquoise gives that paradise-like look to your yard, while darker tones bring more depth and mystic flavors.
Furthermore, if you seek a more natural look that completely blends with the surrounding, you can go with green tiles. Grayish tones, on the other hand, can mimic an ocean and a lake, giving the impression of an aged and discolored look as well, which adds extra interest. This feature is also helpful in hiding accumulated dirt. Last but not least, black also has a certain level of popularity for its minimalist and dramatic aesthetics.
Overall, it is hard to tell what the best color is for pool tiles. As for popularity, blue wins the race surely. But it also depends on the look homeowners want to achieve. With brief research on colors and their interaction with light and color, they can decide what suits their interest best.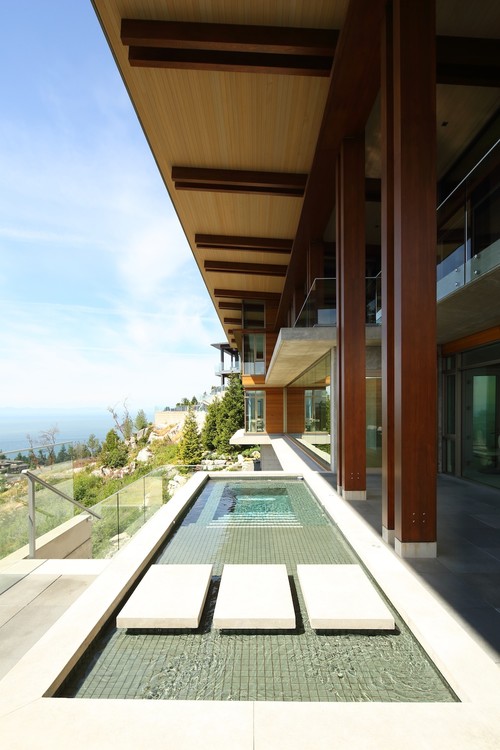 ID# 168403 | Houzz.com – Credit | © Openspace Architecture
---
Contemporary Pool Design with Gray Porcelain Tiles
If you are looking for a more modern pool design that provides a sleek appeal, these gray porcelain tiles will be a perfect choice! Thanks to their sleek square shape, they blend with the rectangular shape of the pool perfectly just like here. This pool design is complemented by floating white steps that enhance modernity.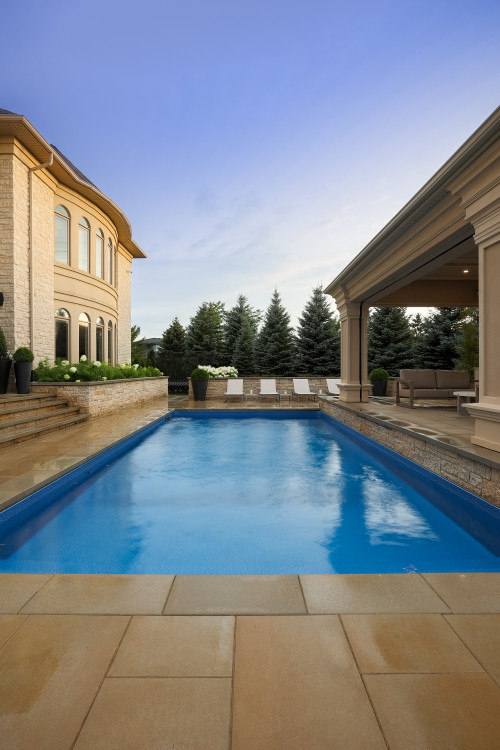 ID# 168404 | Houzz.com – Credit | © Pioneer Family Pools
---
Historical House Design with Modern Pool
With its vibrant blue vinyl cladding, this outdoor pool stands out in this backyard which is dominated by neutral colors! The sleek rectangular shape of the pool makes a modern twist against the historical façade of this beautiful house. As such, it offers a great spot for swimmers and sunbathers to gather around and rest in the company of a beautiful pool view!
Material and Color Options for Pool Tiles
Some of the most common pool tiles include porcelain, ceramics, granite and glass, which are resistant to water and pool chemicals. They come in a variety of colors and forms to make your backyard pool the focal point!! Let's go over them one by one.
Glass Pool Tile Ideas
Glass tiles are one of the most popular, expensive, yet durable and versatile tiles to clad the pools. As they are non-porous, they are resistant to water, ensuring longevity. In addition to their functional advantages, they also come in various styles and patterns to create diverse aesthetic effects! They also have frost-proof versions along with the ones with a metallic-like appearance in golds, bronzes, and silvers.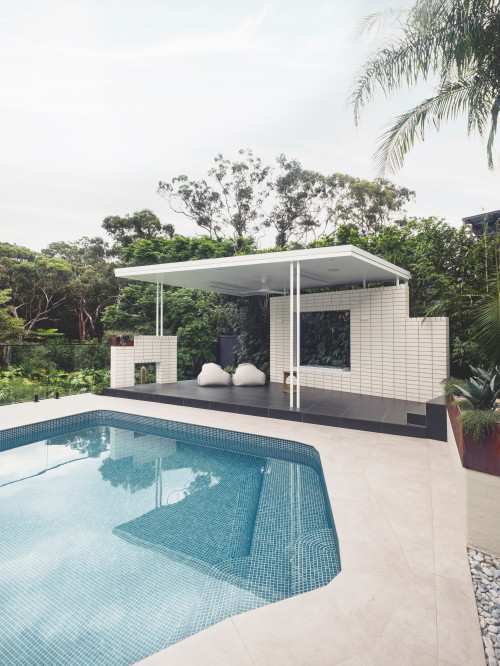 ID# 168405 | Houzz.com – Credit | © Walless Architecture
---
Geometric Pool Tile Ideas with Elevated Hot Tub and Glass Mosaics
Surrounded by the serene atmosphere of nature, this midcentury backyard design is distinguished by an outdoor pool. The blue glass pool tiles create an eye-catching look while the beige deck cladding highlights the pool area more. Being the anchor between the family home and the pool, the modern pergola design provides a relaxing area across the pool. The use of smaller segmental columns, unattached walls and a slender roof for the pergola emphasizes the structure's lightness and openness to nature!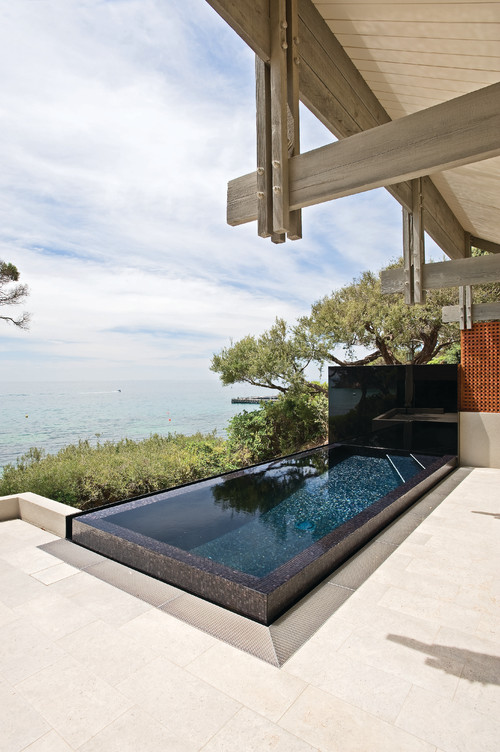 ID# 168406 | Houzz.com – Credit | © Trend Group Australasia
---
Backyard Oasis with Stunning Ocean View
This magnificent outdoor pool is surrounded by a breathtaking ocean view and its black glass tiles provide dimension and create the illusion of infinity. Immersed in a serene blue ambiance, a lavish atmosphere is woven, unveiling the pool as a concealed outdoor haven of luxury. This outdoor paradise boldly harmonizes contrasting elements that captivate the eye and evoke a sense of opulence in perfect harmony with the surroundings!!
What tiles can I use around my pool?
What you should prioritize while tiling the pool surrounding is your and your family's safety and choosing a slip-resistant and water-resistant material with a high-wear rating. At this point, natural stones stand out as the non-slip and safest options, while the second thing you need to consider is how this material will affect your comfort underfoot. Will it get easily heated up and give you trouble until you reach a shaded spot or the interiors? To minimize this, you can benefit from travertine, limestone, or sandstone. Likewise, bluestone is a worth-considering option as it is anti-slip and provides a timeless and neutral look.
To compare them in a more detailed way, while travertine with its porous skin lends a more traditional feel evoking tactility, limestone has a more modern and industrial flavor to it like concrete. For a more traditional look, you can go with a tumbled finish of limestone.
In addition to these natural stones aforementioned, porcelain tiles are a great alternative. Plus, they can mimic wood, brick, and stone patterns. So, if you are looking for something that is not stone but still with a natural look, porcelain tiles can give you what you are looking for. But, of course, for material authenticity, porcelain tiles can't replace natural stones.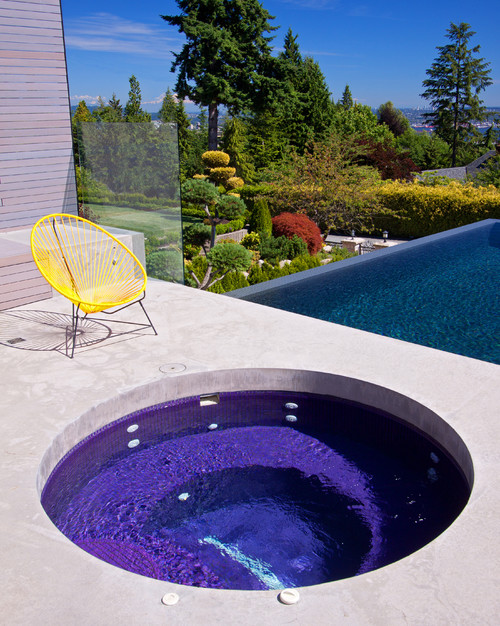 ID# 168407 | Houzz.com – Credit | © Alka Pool Construction Ltd
---
Modern Backyard Design with Purple Glass Pool Tile Ideas
In this modern backyard, the infinity pool and the circular pool hot tub offer a calm and relaxing experience after a long business day! The whirlpool glass tile's distinctive purple tint distinguishes it from the rest of the pool lounge and contrasts wonderfully with the pool's specially mixed charcoal-colored plaster to produce an Avant Gard atmosphere.
Porcelain Pool Tile Ideas
Porcelain pool tiles are one of the most affordable pool cladding solutions. It is more durable and resistant to water than ceramics since it contains compounds that ceramics do not!!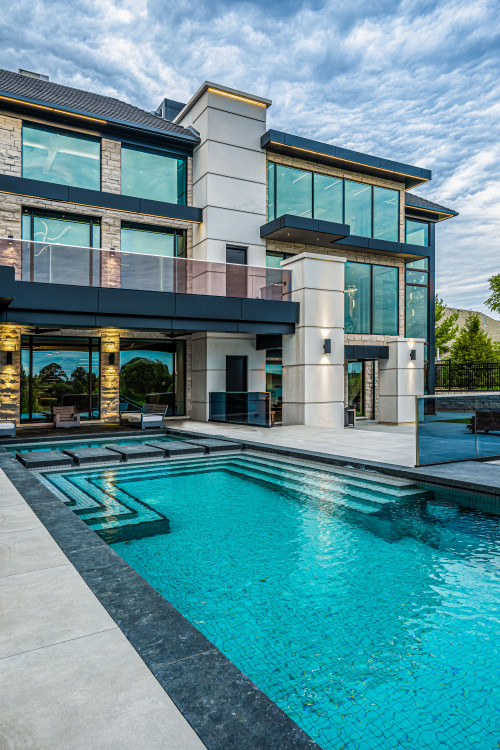 ID# 168408 | Houzz.com – Credit | © Uncommon Ground Landscape Design
---
Contemporary Geometric Pool with Black and Blue Tiles
In this contemporary geometric pool design, the combination of the two different colored tiles elevates this backyard visually while enhancing the textural capacity of the pool. From blue and black porcelain tiles covering the pool area to gray paving and black accents as decorative aggregates each element creates diversity taking the homeowners on a visual and tactual journey!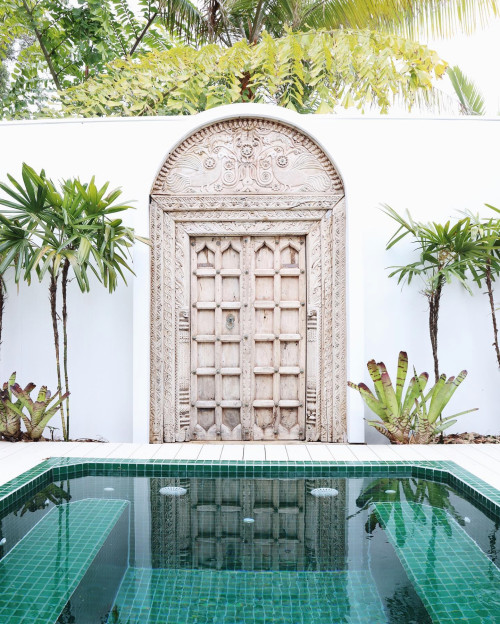 ID# 168409 | Houzz.com – Credit | © Allcast Precast
---
Green Porcelain Pool Tile Ideas with Stunning Door
Within this impeccably crafted pool design, meticulous attention to detail imparts an air of organic authenticity. Adorned with a splendid shade of green, the porcelain pool tiles harmonize flawlessly with the surrounding tropical environment and craft an alluring and opulent atmosphere. Enhanced by the backdrop of pristine white walls, the real showstopper is the meticulously crafted handmade door that steals the spotlight in this backyard oasis!
What are the best tiles for swimming pools?
Ceramics and porcelains are without a doubt the best ones, though, not as fascinating as glass. But they are favored because they are budget friendly and affordable for those on a strict budget. But if you feel free in financial terms, then glass tiles serve the pool best!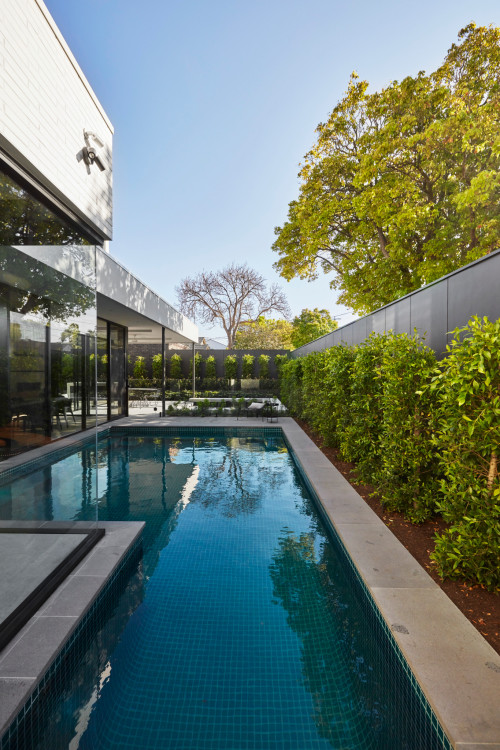 ID# 168410 | Houzz.com – Credit
---
Contemporary Backyard with Geometrical Pool Design
This subterranean backyard at the back of the property steals a view of the lovely street tree canopies! Hill's fig and vivid green foliage soften the design's simplicity to create a tapestry of tones and textures. The swimming pool is built to provide the best possible view of the water from inside the house. The vibrant mosaic tiles of the modern pool are a captivating accent which offer an outstanding contrast to the surrounding muted tones!
Mosaic Pool Tile Ideas
Mosaic tiles are heavily used tiles in pool designs as an alternative to traditional plaster coatings, spicing up every design, even if the rest is kept all-white. They introduce texture, effortlessly transforming pools into the focal points of your backyard. Especially their chip sizes are excellent options to achieve impressive looks and also are ideal for irregularly shaped pools to clad the most impossible spots.
If you are wondering about material options, glass mosaics are great to achieve a depth of illusion as their luminous surfaces feature a high capacity to reflect light, adding movement.
When it comes to the decking options for mosaic pool tiles, we can count concrete and travertine that offer a radical transformation in terms of texture. To complete the mosaic pool tiles with a modern feature, concrete provides a practical and affordable alternative and a smooth transition with a clutter-free look. However, if you seek something more natural, you can use natural stones such as travertine, granite and marble.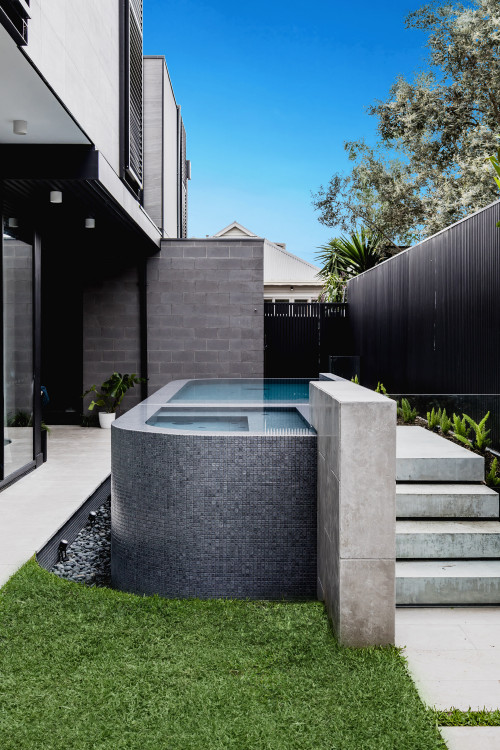 ID# 168411 | Houzz.com – Credit | © White Pebble Interiors
---
Above-ground Pool with Clad in Gray Mosaic Pool Tiles
This beautiful backyard offers everything needed to unwind after a long strenuous day: an above-ground pool, a hot tub and a beautiful serene atmosphere. To start with, the elevated pool exhibits a very dynamic visual scheme through blue custom mosaic tile, while the exterior façade is coated in gray mosaic tiles to highlight the pool area more. But the best part is that the pool water offers a canvas for trees to cast their shadows for cinematic effects.
Blue Pool Tile Ideas
Blue pool tile design enhances the presence of the water and reflects the sky. Benefiting from different shades of blue, you can play with the visual depth of the pool playfully. While darker blue tones make the pool look deeper, the light tones create a shallow feeling and evoke the sandy waters of an island. But if you seek a tropical feeling, then bright blue shades might be what you are looking for.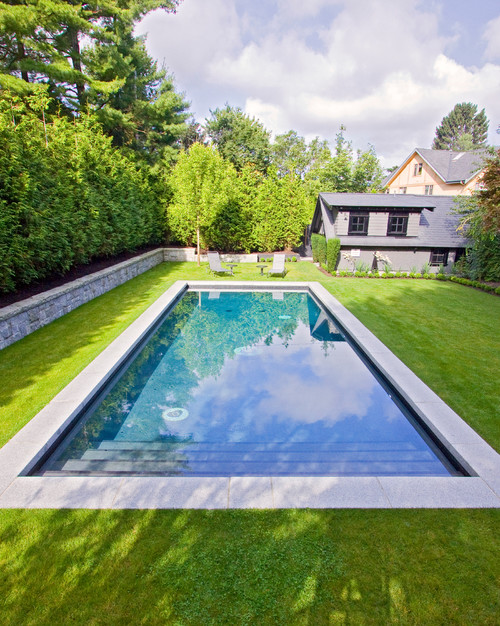 ID# 168413 | Houzz.com – Credit
---
Modern Greenery Backyard Design with Rectangular Pool
This outdoor space feels fairly isolated providing a robust resting location gently conversing with the sky and green. The gray stone pool deck conveys elegance and sophistication in place of the vivid and invigorating blue tones of the pool tiles that perfectly complement the whole mood.
What should you consider when choosing pool tile?
When getting a pool, there are a lot of details to consider, ranging from the size, shape, and material of the pool tiles to the deck, paving, color, lighting, and pool style. Of course, while planning all this, you should also determine what kind of budget you can devote to such a huge and demanding project. Let's just dive into the topic in a more detailed way:
1) To start with, choosing tiles is the most important part. Ceramics and porcelain are the most affordable prized materials when compared to glass. If you wish, you can even create alluring mosaic designs with porcelain. Yet, of course, for a sense of luxury and shimmering effect, glass tiles are the best, though pricier.
2) As for the size of the tiles, avoid using large format tiles as they are prone to crack due to temperature shock.
3) For decking and paving, use non-slip materials that don't get heated up easily so that your feet won't burn until you reach a shaded spot. Stone tiles and concrete are popular options. While concrete offers a smooth and streamlined look, natural stones enhance the design, creating a more organic and natural ambiance.
4) Another important detail is the grout and maintenance of the tiles. You can consult an expert or your manufacturer not to miss any detail.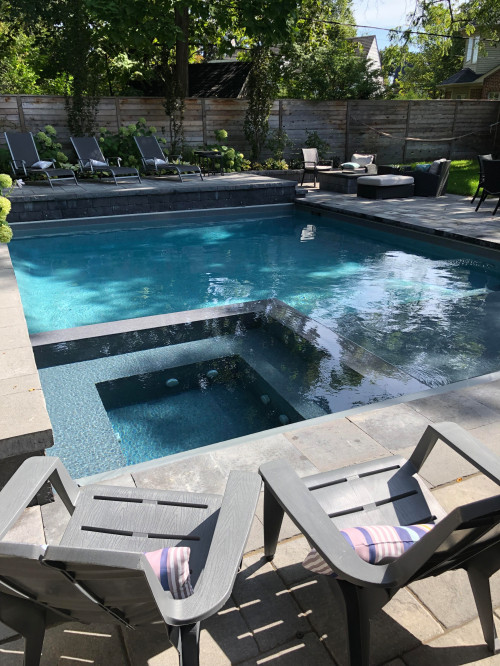 ID# 168414 | Houzz.com – Credit | © G3 Pool and Spa (luxury pool company)
---
Blue Pool Tile Ideas with Integrated Hot Tub
The verdant surroundings of this modern pool design provide a pleasant atmosphere to view and hear!! The neutral deck tiles complement the natural backdrop while the blue pool tiles add a splash of color without detracting from the overall clean and modern aesthetic.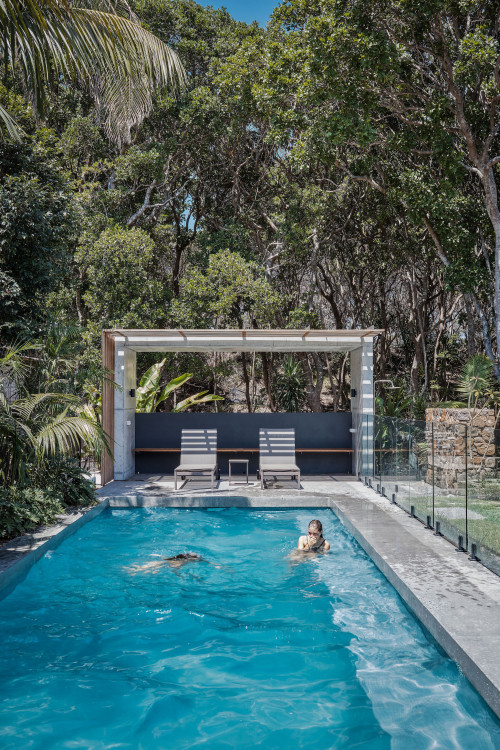 ID# 168415 | Houzz.com – Credit | © Surface Society
---
Enticing Pool Design in a Greenery Backyard
Tactically rich, this modern pool design is surrounded by nature's calming appeal and serves as a haven. The concrete pergola with sunbaths in the back provides a place to relax directly close to the pool.
Are waterline tiles necessary?
The waterline tiles are not necessary but help you keep things cleaner and in a better form. Body oil, dirt, sunscreen, etc. build up along the waterline which makes it easier to clean the pool. Secondly, waterlines also help avoid freezing pool water and cracking as they keep the pool liner sealed. Thirdly, they add an aesthetic value and make one of the most visually accessible parts of your pool look alluring.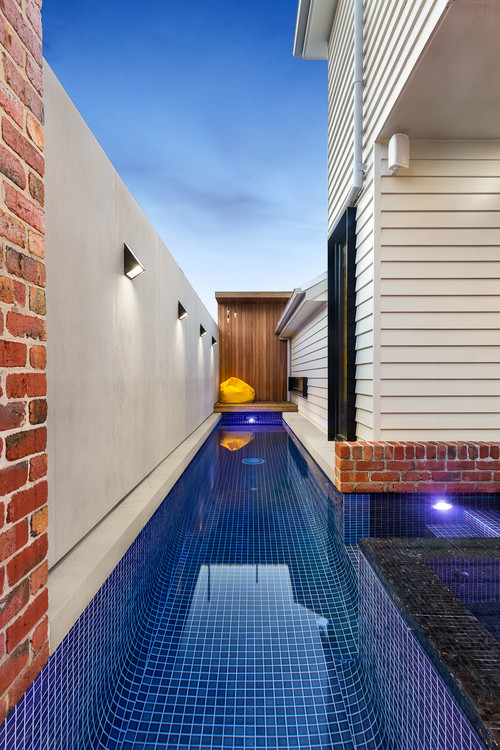 ID# 168416 | Houzz.com – Credit | © Laguna Pools
---
Deep Blue Pool Tile Ideas for Narrow Design
Surrounding the family house, this well-design outdoor pool offers a joyful experience under the sky! The deep blue mosaic pool tiles create a visually pleasing appeal that brings depth to the backyard.
Black Pool Tile Ideas
Black swimming pools, resembling black voids or massive black holes, provide a minimalist and edgy design for your background. They also allow you to be more creative with a lighting system, making for immersive looks. Thirdly, as black absorbs heat and light, it also makes the pool water warmer, which is great for those who hate swimming in cold water.
Though, black pools are not very recommendable for certain reasons, particularly due to safety concerns as they distort depth perception and could lead to accidents. But this doesn't mean that you have to give up on black tool tiles. You just have to be mindful of where to use them. For example, rather than creating a dark-bottomed pool, you can use black tiles to cover the exterior part of the design or as a waterline to add some visual richness.
Black Granite Pool Tiles
To discuss some popular black pool tiles, we can have a look at glass, granite, and porcelain. To start with, granite is durable, resistant to staining, and provides non-slipping surfaces, executing a sophisticated and elegant look with a contemporary appeal. Black granite mosaics make a wow factor with a sleek design that can be furthered with black granite tiles for decking and paving.
Black Porcelain Pool Tiles
Porcelain tiles provide a stylish look, creating a visual drama, thus, could be another option to make a statement. As it is an option that will never go out of style, you can achieve a timeless look that won't lose its relevance anytime soon. Plus, the porcelain's resistance to water and affordable prices when compared to other materials make it stand out among other tile options in the market. If you don't want the mosaic look and seek something more oriental, arabesque tiles and standard 6" – 6" tiles are alternatives to the mosaics.
Aside from those, black jet tiles are used for paving to offer a sleek look. Last not but least, a black pebble sheen finish adds textuality and richness as it is composed of tiny pebbles tightly fused, some of which even feature seashell pieces. More, PebbleSheen increases durability and is great at hiding stains.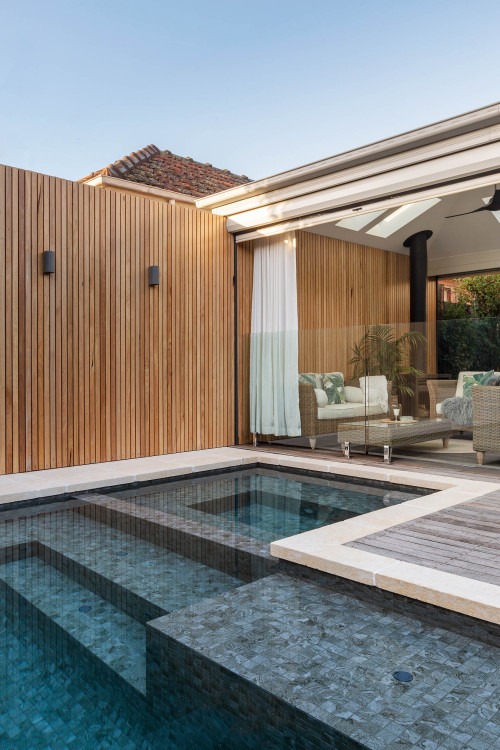 ID# 168417 | Houzz.com – Credit | © Apex Landscapes & Pools
---
Black Mosaic Pool Tile Ideas with Integrated Spa and Wood Deck
Visually mesmerizing and comforting, this geometric pool exudes contemporary elegance with black mosaic tiles that continue with beige coping that enhances the black tiles' strong influence. The lap hot tub is beautifully integrated into the pool. As such, it offers a great spot for swimmers and sunbathers to gather around and rest in the company of a beautiful pool view!
What grout do I use for pool tile?
For pool tile grout, there are multiple options, one of which is epoxy pool tile grout that is water-proof and stainproof. The second option which is also more affordable, is the cement grout. But it is not as durable and stain-resistant as epoxy and can be damaged by pool chemicals in the long term. Additionally, if the gap between the tiles is larger than ¼ inch, using a sand-added grout is recommended so that the grout holds more strongly!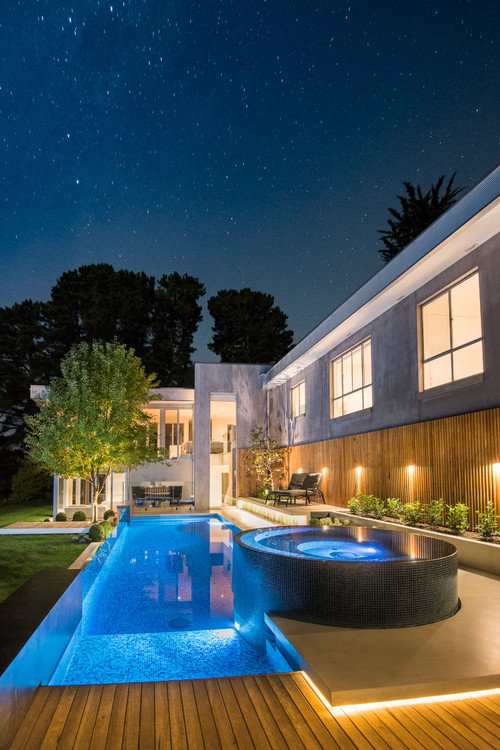 ID# 168418 | Houzz.com – Credit | © Australian Spas And Pools
---
Rectangular Pool with Black Tile Ideas and Raised Hot Tub
This infinity pool, with a 360″ mirror spa, is effortlessly blended into a landscape setting of eggshell floating polished concrete floors and flower beds, black polished concrete plinths, decking and stunning fauna. The black mosaic tiles of the sauna create a focal point and enhance the elegance of the design. Colored led lights illuminate the specially mixed tiles, enhancing the pool and floating slabs. In essence, this pool was designed to dazzle whether it is used to rest or to party!
Waterline Pool Tile Ideas
The tiles coating the perimeter of a swimming pool are named waterline that is almost always 6 inches tall. A pool waterline not only comes as an aesthetic feature but also has a purpose. To start with, the pool waterlines are applied for the dirt, sunscreen, and body lotion to accumulate, thus, their main purpose is to make the pool cleaning a much easier task while also achieving a more balanced look.
However, besides their functional purpose, you can also add character to your pool through waterline pool tiles. If you are looking for a natural look to blend into the surroundings effortlessly, you can benefit from stone and wood-looking porcelain tiles. This organic earthy palette of the tiles will also visually evoke a sense of tactility and give a solid look to make a statement. A high-end pebble finish for the pool interior is also another option worth considering.
Add Character to Your Pool
But, if you seek something glittering and exciting rather than organic, you can consider blue glass mosaic tiles which also communicate a sense of luxury. Glass mosaic waterlines are very popular as they capture and reflect the sunlight beautifully, creating a sun-blessed and dazzling effect. They even mimic the movement of the water, producing its rhythm and dynamic visual scheme. If not into mosaics, then glass subway tiles stand out as another popular option. Even though glass tiles are pricier than porcelain, they assure longevity in the long term as they are highly durable and not susceptible to corrosion easily in addition to their wide array of design options.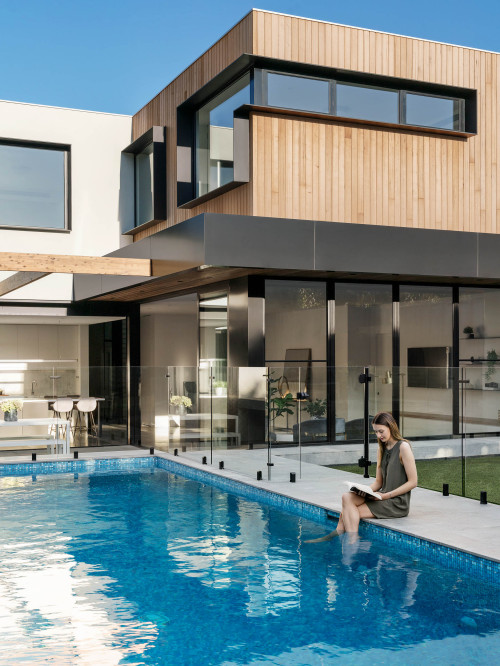 ID# 168419 | Houzz.com – Credit | © Sketch Building Design
---
Waterline Pool Tile Ideas for Modern House's Backyard
This visually soothing pool is in synergy with its surroundings thanks to its mosaic waterline which adds a very dynamic and tactile touch. The blue mosaic tiles' vibrant energy feels softened by the beige deck which creates a continuous design guiding throughout the lounge area.
Decorative Pool Tile Ideas
If you want to be more creative and create your design or whatever is in your mind, you can see what your options are with decorative pool tiles. Hand-painted glazed tiles are great alternatives for authenticity that let the interplay of shadow and light, including 3-dimensional ones. Also, for a more decorative look, a variety of elements can be combined, including glass, ceramic, porcelain, and travertine, which surprisingly pulls off an intriguing look.
If you would like to take decorative pool tiles to another level, pool bottom murals are great alternatives. Imagine a mural of fish, mermaids, turtles, coral, and seashells that mimic the ecosystem of ocean life on your pool's bottom. You can snorkel as if you are in the ocean and enjoy the freedom supplied by water.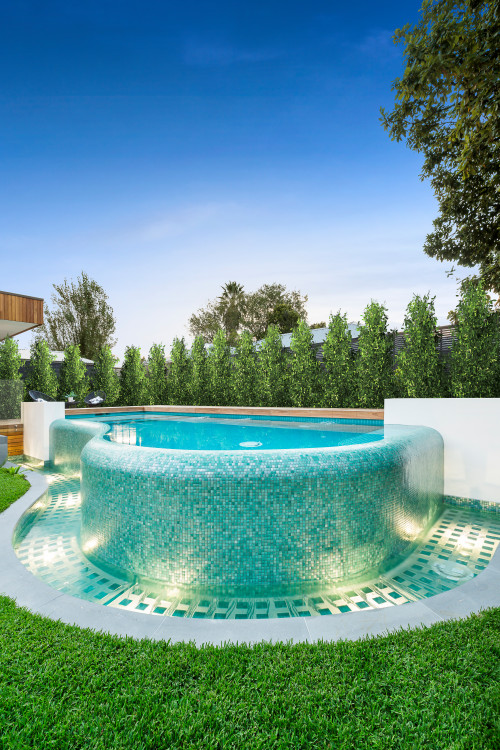 ID# 168420 | Houzz.com – Credit | © Apex Landscapes & Pools
---
Organic Shaped Outdoor Pool Design with Mosaic Tiles
Wow… This outdoor pool design makes a strong statement thanks to its organic shape and well-chosen mosaic tiles! Imagine relaxing in this pool after a long and tired workday with your cocktail under the sky! Due to of the pool's unusual shape, the custom-made green mosaic tiles create excitement and make a visual statement for a more distinctive appeal!
What is the most expensive pool tile?
Shimmering glass tiles with a natural allure that comes in various shades and shapes are the most expensive pool tiles when compared to other tile options in the market. Thus, customers who are on a low-budget search for substitutes and alternatives to glass tiles. Though, another alternative would be to use glass tiles only as waterline tiles. To give you an idea, installing a waterline might cost up to $1,800 – $2,500.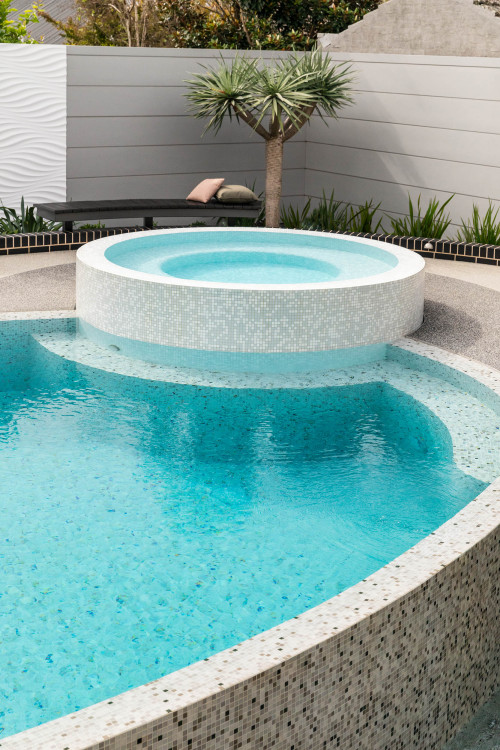 ID# 168421 | Houzz.com – Credit | © Laguna Pools
---
Decorative Pool Tile Ideas and Elevated Hot Tub
Enhanced by the presence of an elevated hot tub, this stunning outdoor pool boasts an aesthetically pleasing arrangement adorned with ornate mosaic tiles. Moreover the exterior façade of the elevated pool features square tiles, skillfully curated to maintain a cohesive visual language and effectively harmonize with the overall color palette!