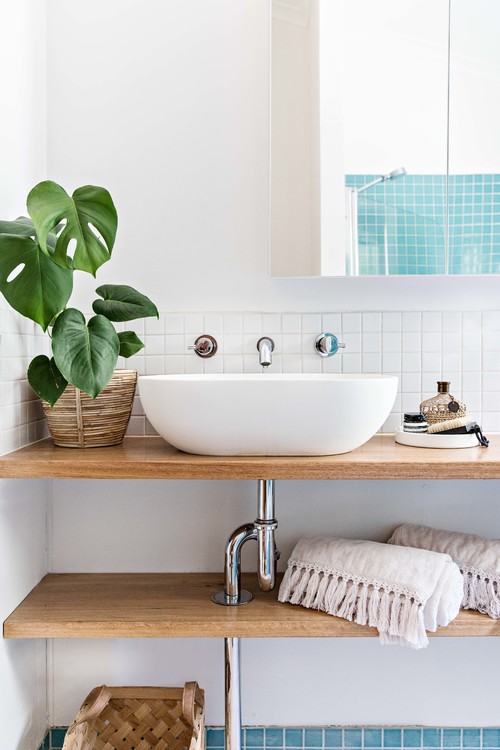 ID# 107512 | Houzz.com – Credit | Jessi Eve | © The Palm Co.
---
Scandinavian Bathroom with Wood Vanity and Vessel Sink
This cozy bathroom gives a serene look and reflects Scandinavian style beautifully. Wood vanity completed with white vessel sink and white backsplash mosaic tiles. Open shelves provide to display decors and create storage space.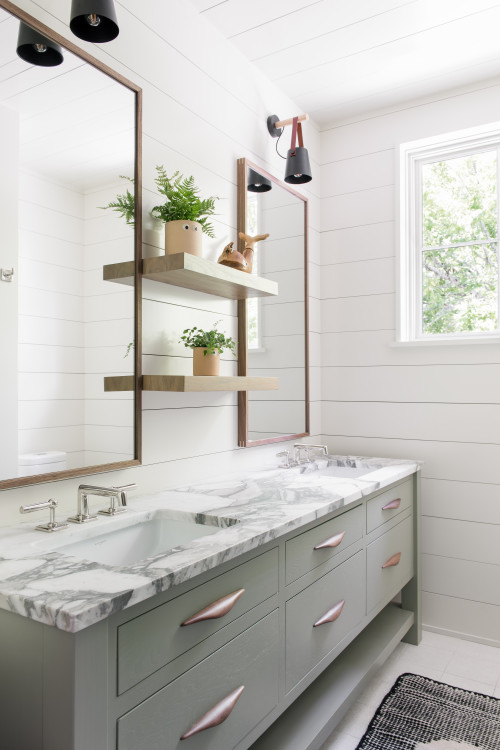 ID# 107503 | Houzz.com – Credit | © St. Pierre Construction
---
Beach Style Bathroom with Gray Vanity and Marble Countertop
A combination of natural materials and traditional vibes creates a beautiful serene bathroom. Gray vanity completed with rose gold handles and marble countertop with undermount sink. Marble adds a sense of luxury. Wood-framed mirrors and wood shelves between them in a harmony with the shiplap walls. DIY plant pots bring joy o the atmosphere.
Cozy, Elegant and Plain Bathroom Shelf Ideas
Clutter is a common problem for the bathroom, whether you're working with an expansive master bathroom or tiny powder room. Shelvings are great storage solutions to create a clutter-free look in a stylish and functional way. If you are looking for some design tricks, check out our bathroom shelf ideas to get inspiration!
Maximize the functionality in your bathroom with shelves.
Shelving provides benefits to your bathroom both visually and functionally. Bathroom shelving provides additional storage space in your bathroom. They allow you to take advantage of maximum wall space while keeping clutter to a minimum. Also, a great way to display decors in the bathroom. Whether you go with a white bathroom with modern lines or use vibrant colors, you can bring an airy and clutter-free look with shelves in your bathroom.
These bathroom shelf ideas will help you turn a messy bathroom into an inviting retreat!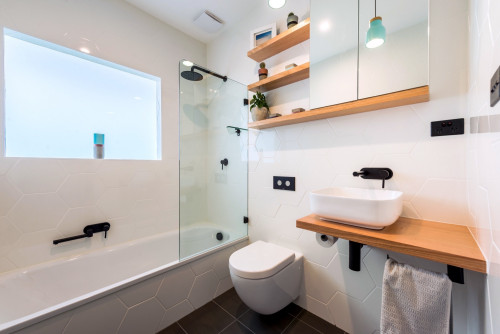 ID# 107501 | Houzz.com – Credit | © Refresh Renovations Tauranga
---
Modern Bathroom with Wood Shelves and White Hexagon Tiles
A wall-hung toilet and modern rectangular sink with a wooden benchtop installed to enhance the sense of floor space. Wood shelves and mirrored cabinets for the upper part contribute to this airy and spacious atmosphere. White hexagon tiles create a great contrast with black floor tiles.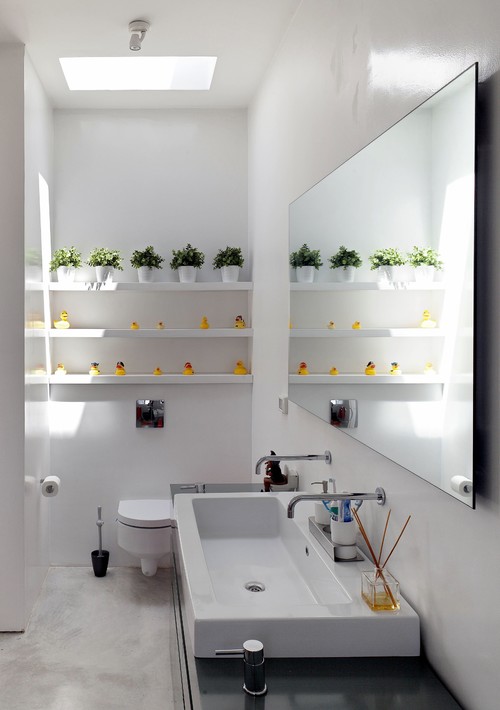 ID# 107502 | Houzz.com – Credit | © Sharon Neuman architects
---
Minimalist Small Bathroom Design with White Bathroom Shelves
This white bathroom represents the beauty of simplicity. The white bathroom shelving perfectly fits between the walls and provide an additional space to display decors. Black cabinet paired with modern white sink and wall-mounted faucets. A large rectangular mirror brings depth to this small bathroom.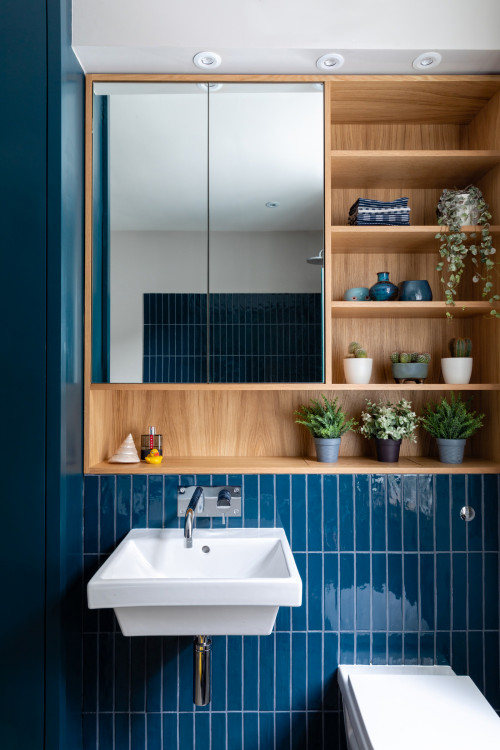 ID# 107504 | Houzz.com – Credit | © Nicky Percival Limited
---
Transitional Bathroom with Blue Glass Ceramics and Wood Recessed Niche
We loved the harmony between the wood and navy blue. While blue glass ceramics creating visual beauty, wood recessed wall niche maximizing the functionality of the space. The wall-mounted white sink and toilet enhance the footprint in this bathroom.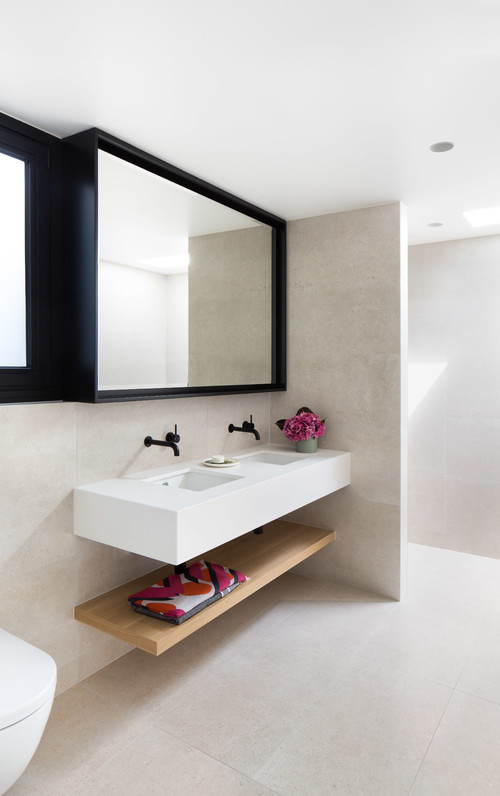 ID# 107506 | Houzz.com – Credit | Meraki Creative | © Emily Bartlett
---
White Floating Vanity with Wood Bathroom Shelf Ideas
Inspiration for a contemporary bathroom with black bathroom cabinets with mirrored doors, white floating double sink, wall-mounted black faucets, floating wood shelf, and beige porcelain tiles.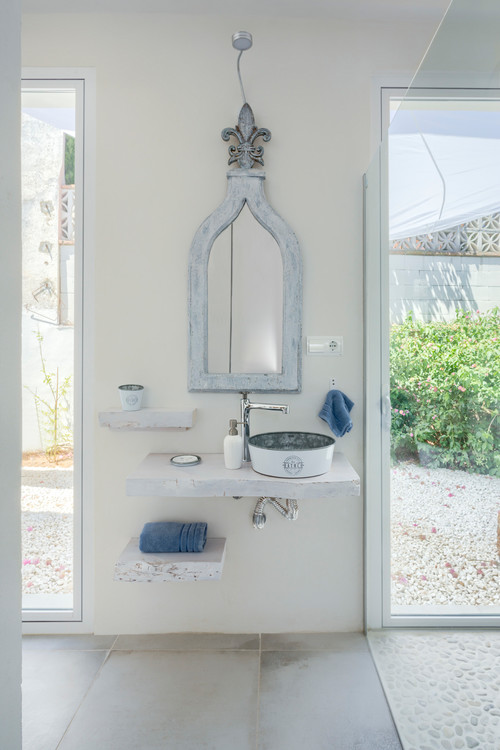 ID# 107508 | Houzz.com – Credit | © Mesogenic Fontography
---
Mediterranean Bathroom with White Floating Shelves
This blue and white bathroom is a great example that how to evaluate small spaces with maximum functionality. Wall-mounted white shelves enhance the floor space while creating visual beauty. A small vessel sink, stunning mirror, and blue towels complete this Mediterranean look.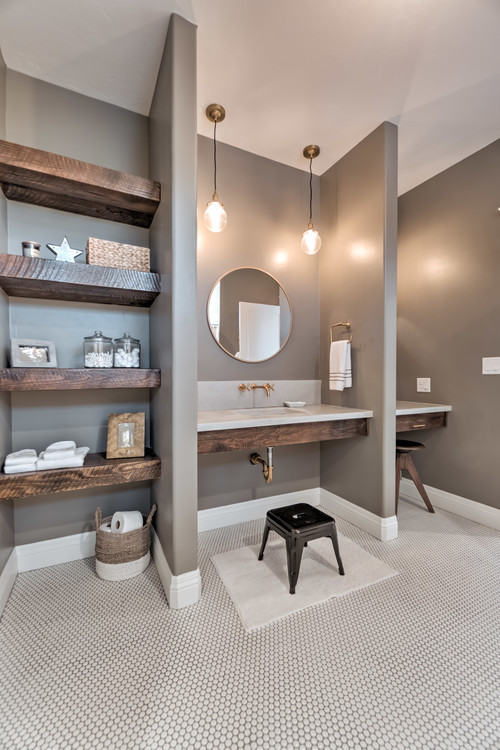 ID# 107509 | Houzz.com – Credit | © Guardian Homes
---
Farmhouse Bathroom with Wood Shelves as a Bathroom Storage
The functionality of this bathroom is maximized by dividing it into three parts. Wood shelves climb through the wall and create a clutter-free look. In the middle part, the wood vanity is completed with a white countertop and undermount sink. A circular mirror, bubble pendant lights, and gold wall-mounted faucet make an elegant touch. For the last part, the same wood vanity and white countertop were preferred and created a small make-up area. The wicker basket is a great idea to put toilet paper.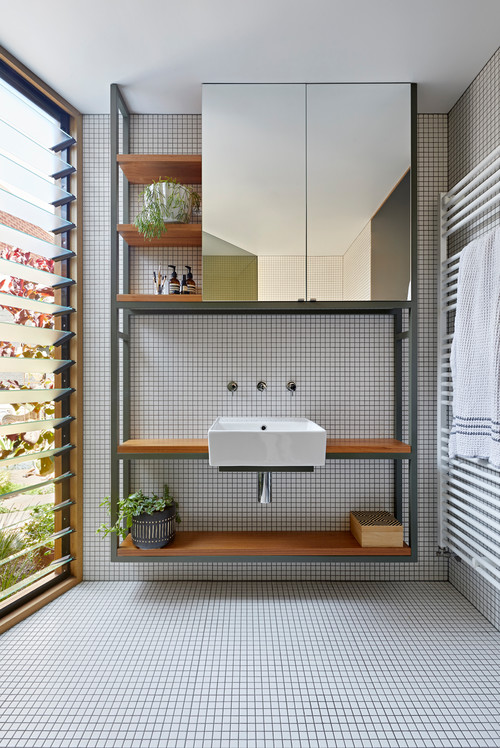 ID# 107510 | Houzz.com – Credit | © BENT Architecture
---
Modern Scandinavian Bathroom with Black Framed Wood Vanity
The minimalist design of the vanity features wood shelves fitted with a black frame, white sink, and mirrored cabinets. This minimalist design allows shining stunning white tiles out while creating harmony.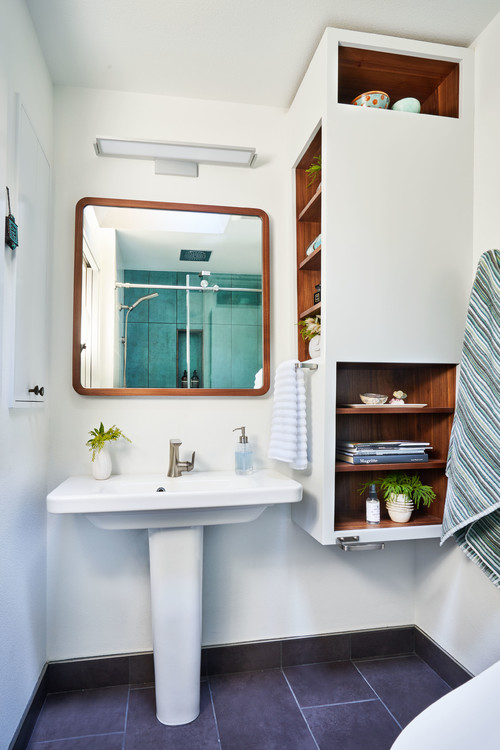 ID# 107511 | Houzz.com – Credit | © Fraley and Company
---
Small White Bathroom with White Cabinet and Wood Recessed Shelves
Although this bathroom is small, it creates a bright atmosphere because it receives plenty of natural light. The custom wall cabinet with wood shelves provides plenty of storage space and fits in a little funk in the space. Wood-framed mirror complements the wood shelves. The white bathroom sink creates a clean and simple look next to the white walls.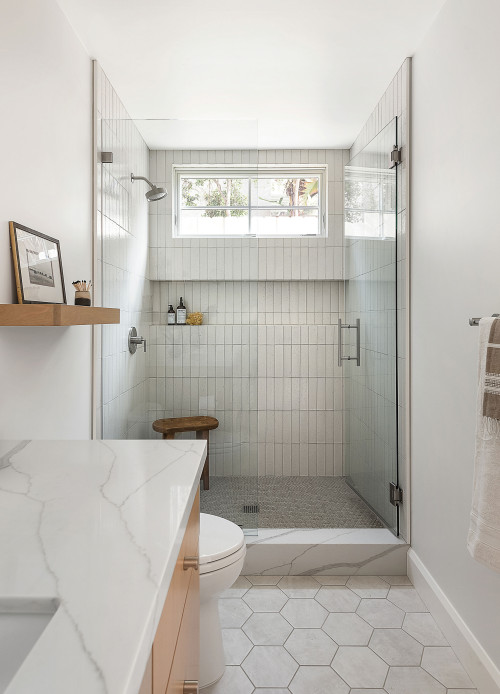 ID# 107514 | Houzz.com – Credit | © Jola Cole Design
---
Farmhouse Bathroom Ideas with Alcove Shower and Wood Shelf
This white bathroom is brimming with a ton of personality, thanks to rectangular and hexagon tiles. The white color palette enlarges and lightens up space at the same time. Wood vanity and wood floating shelf add warmth to the atmosphere, while marble top making a luxurious touch.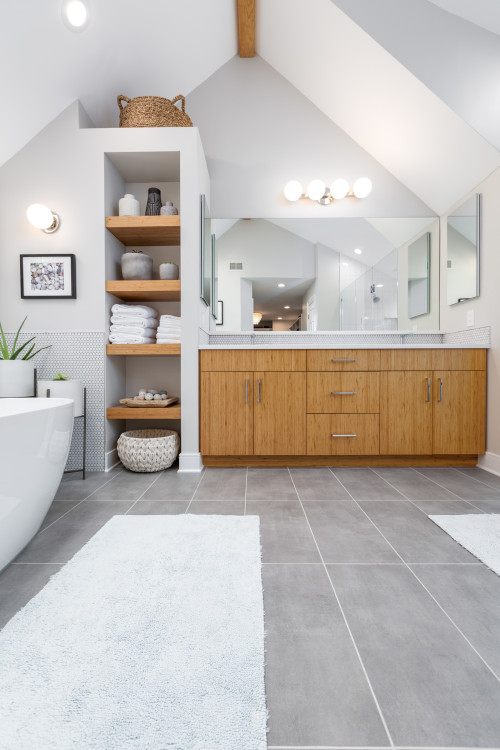 ID# 107515 | Houzz.com – Credit | © Boss Design Center
---
Modern Farmhouse Bathroom with Wood Vanity and Gray Floor Tiles
This bathroom shows how modern and farmhouse styles can be in perfect harmony. Wood touches make warmer the dominant whites. Wood shelves are used to store folded towels and wicker baskets. Frameless mirrors create a clean and fresh look while adding depth to space.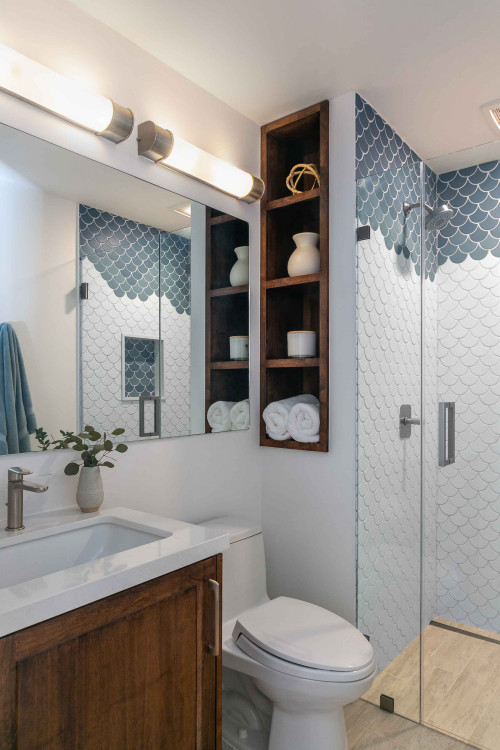 ID# 107517 | Houzz.com – Credit | © Kelly Scanlon Interior Design
---
Blue and White Tiles with Wood Vanity and Wood Built-in Shelves
Inspiration for a transitional bathroom with wood vanity, white undermount sink, built-in wood shelves, blue and white mosaic tiles, and wood floor. Blue and white tiles bring a sense of ocean waves. Wall-mounted lights over the vanity make a warm glow.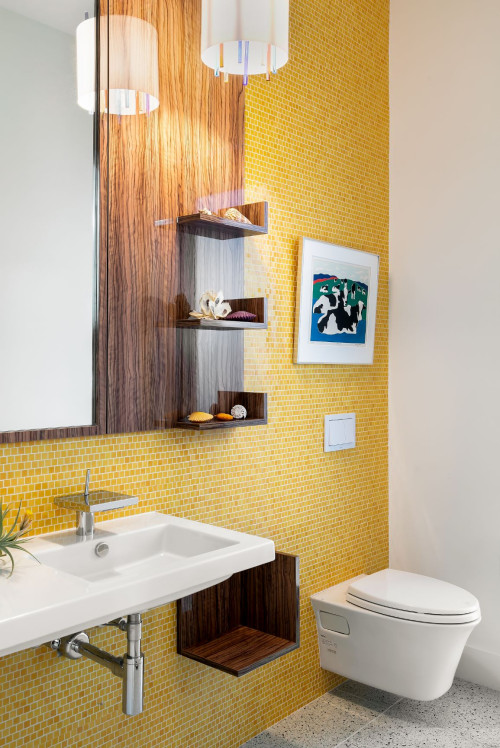 ID# 107518 | Houzz.com – Credit | © Epoch Solutions, Inc.
---
Yellow Mosaic Tiles with Wall Mounted Sink and Terrazzo Floor
These stunning yellow tiles make this bathroom design to the next level and create a harmonious look with wood details. Tiny shelves on the wood panel provide additional space for bath products. Wall-mounted sink and toilet enhance the floor space.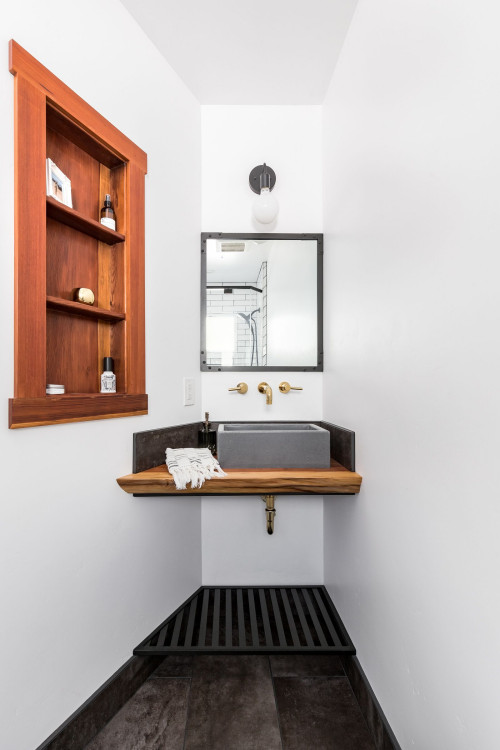 ID# 107519 | Houzz.com – Credit | © Rebuilder Construction Inc.
---
Beach Style Bathroom with Gray Vessel Sink and Wood Benchtop
This small bathroom vessel sink is paired with a wood benchtop and gold wall-mounted faucet and fits perfectly into this narrow space. A Black framed mirror over the vanity adds depth to space. Wood built-in shelves create extra storage for bathroom extras.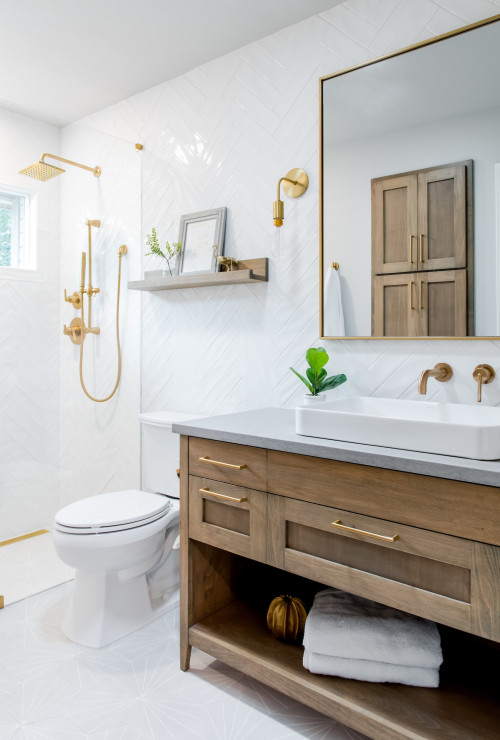 ID# 107520 | Houzz.com – Credit | © The Inside Story Design, LLC
---
Transitional Bathroom Ideas with Timber Vanity and Shelf
Simple, clean, and elegant. Beautiful bathroom cabinetry with timber base completed with gray countertop and vessel bathroom sink. White herringbone tiles add texture. Gold details like handles, faucets, and wall-mounted light, make elegant touch.
---
Concrete Floating Vanity with Metal Vessel Sink and Concrete Shelf
This gray and white bathroom features a concrete vanity with white cabinets and metal vessel sink, wall-mounted blue faucet. The frameless mirror creates a clean and spacious look. Concrete floating single shelves provide a space to display decors and bathroom products.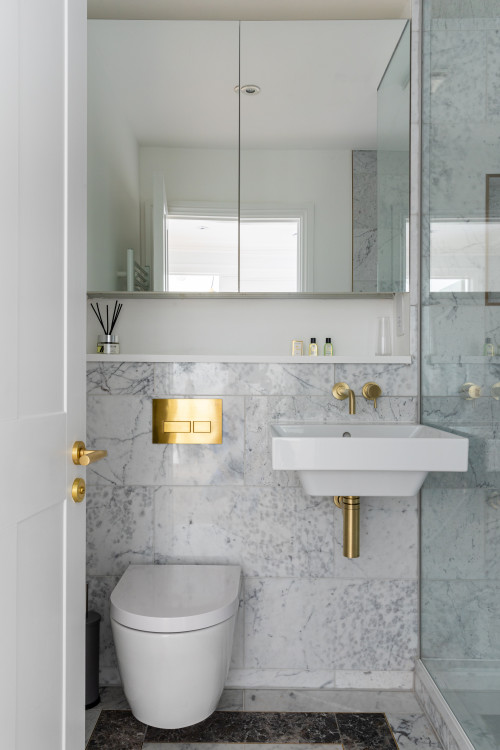 ID# 107522 | Houzz.com – Credit | © Anya Brach
---
Mirrored Cabinets with White Bathroom Shelf Ideas
White, marble, and gold! This combination transforms the small bathroom into an elegant and luxurious way. The functionality of the space is maximized with a wall-mounted sink, toilet, and built-in cabinets with mirrored doors.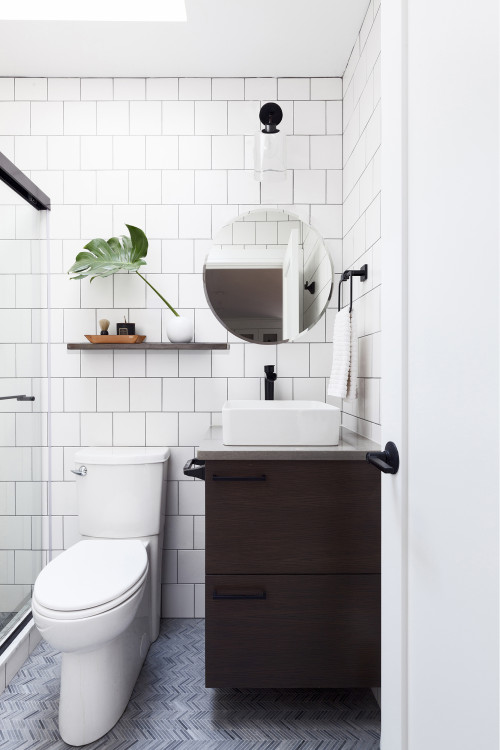 ID# 107523 | Houzz.com – Credit | © Gia Mar Interiors
---
Dark Brown Vanity with Wood Bathroom Shelf Ideas
The dark wood vanity with gray quartz countertop and vessel sink is wall-mounted so space feels more open. Square white tile creates unity and makes the atmosphere feel larger while covering all the walls from floor to ceiling. dark wood floating shelf complements the vanity and creates a simple and beautiful look on the white tiles.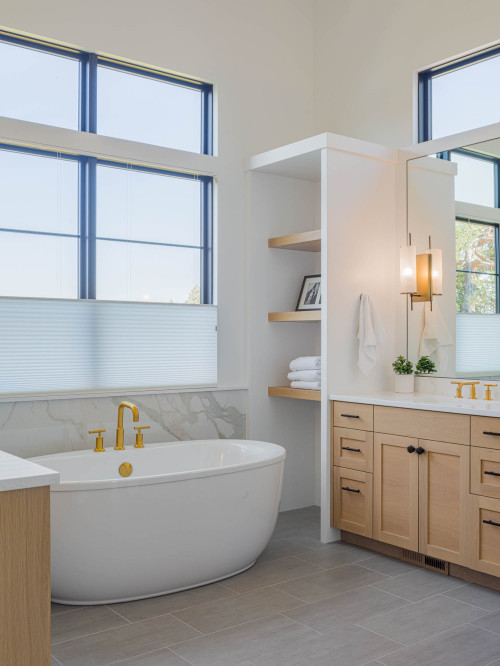 ID# 107524 | Houzz.com – Credit | © ID by Gwen
---
Beach Style Bathroom with Freestanding Bathtub and Gold Faucet
In this bright bathroom, wood vanity and wood shelves create a cozy atmosphere, and gold and marble details make luxurious touch to the atmosphere. Large window opening provides bright and spacious space.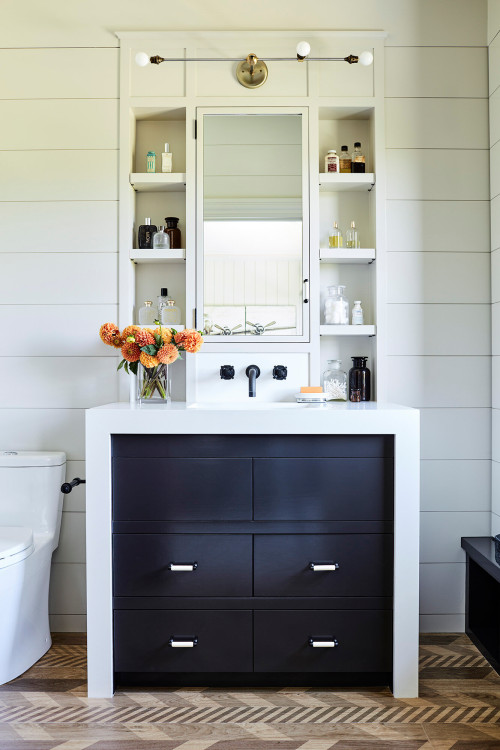 ID# 107525 | Houzz.com – Credit | © Interiors by Patrick
---
Black Vanity with White Countertop and Open Shelves
Example of a small beach style bathroom with black vanity, white quartz waterfall countertop, built-in cabinet with mirrored door, and open shelves. White shiplap walls and brown herringbone floor tiles complete this beach style.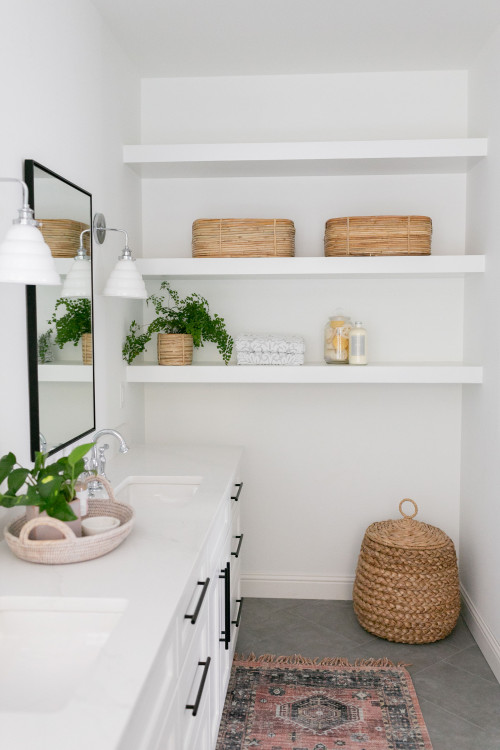 ID# 107527 | Houzz.com – Credit | © Williamson James Homes LLC
---
White Vanity with Black Hardware and White Shelves
This transitional white bathroom serves a bright, spacious, and intimate atmosphere. White vanity completed with black handles and white top. A Black framed mirror complements the handles. White shelves create a clean look between the white walls. Wicker baskets and wire basket adds warmth and provide clutter-free space.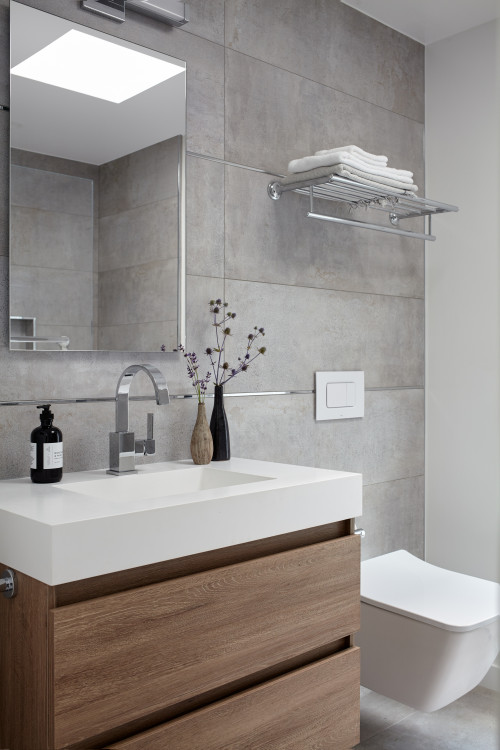 ID# 107526
---
Wood Vanity with Metal Bathroom Shelf Ideas
This neutral bathroom design creates an elegant and clean look with simplicity. Wood vanity completed with white sink. Frameless mirror brings depth to the gray granite tiles. Stainless steel towel rack provides space for towels.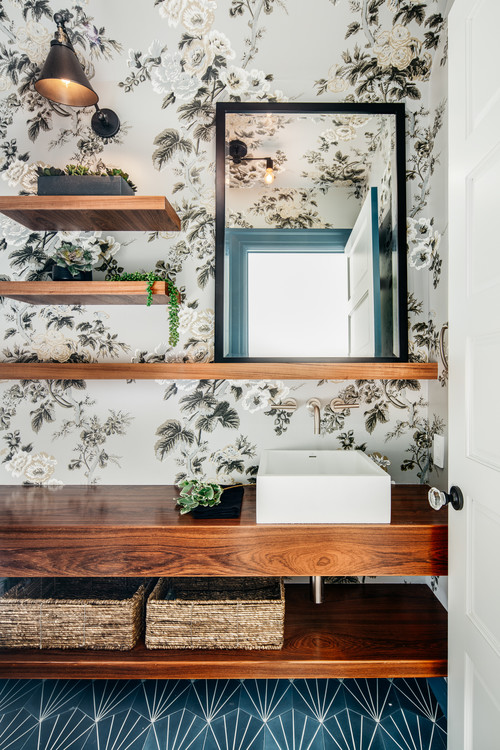 ID# 107505
---
Scandinavian Bathroom with Floral Wallpaper and Wood Floating Shelves
This bathroom design is full of fun! Floral bathroom wallpaper creates a feminine and romantic look. Wood floating shelves climb all the way up this grand feature wall, provide plenty of space for toiletries, plants, and décor. Wicker baskets in the wood cabinet complete this natural look while hiding the clutter.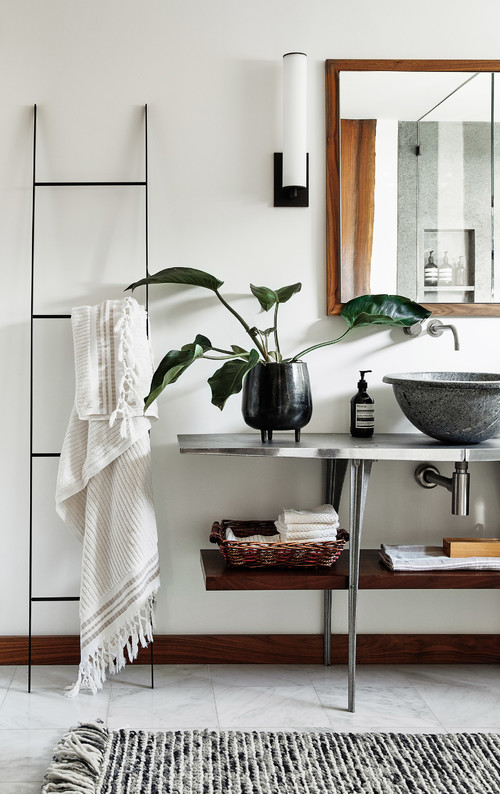 ID# 107507
---
Metallic Console with
Vessel Sink and
Wood Bathroom Shelf Idea 
Carefully placed finishing touches usher in an aura of calm. Metallic console paired with a solid walnut lower shelf to bring in natural wood, and soapstone vessel sink. The wood frame of the mirror complements the wood shelf. Beautiful accessories such as the black ladder, black plant pot, and wicker basket, impart a bit of luxury.
---
Modern Bathroom with Wood Bathtub and Recessed Shelf
We loved this serene and organic atmosphere created by a neutral color palette. Built-in wood shelves installed over the tub to make additional storage space for bath products. Grey shaded wallpaper gives a sense of waves while creating a harmonious look with natural materials.