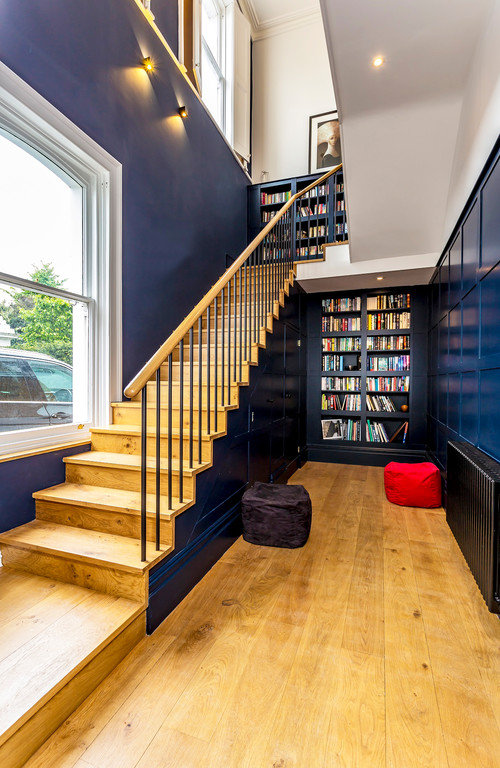 ID# 107903 | Houzz.com – Credit | © Architecture WK
---
Elegant Staircase Library with Wood Details
Placing a bookcase in your staircase is a great idea to evaluate the dead spaces. Here, navy-blue dominates the atmosphere while the wood floor adding warmth. The combination of wood and blue gives a sense of beachy feelings. Small poufs provide a comfortable reading area next to the bookcase.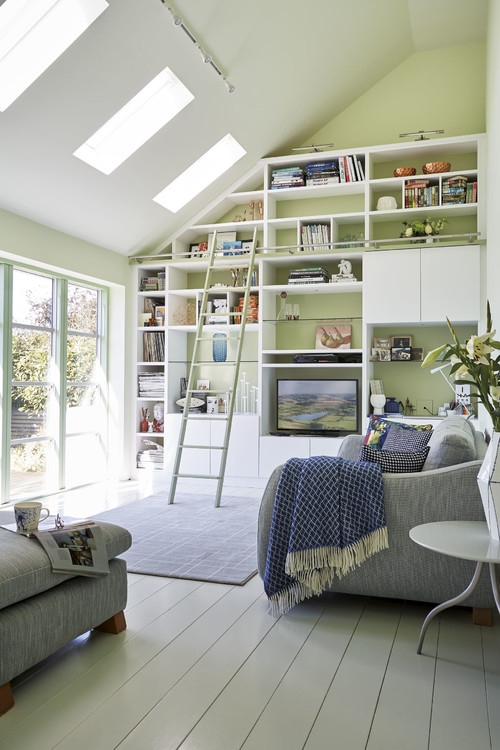 ID# 107929 | Houzz.com – Credit | © Neville Johnson Ltd.
---
Bright And Spacious Lounge with Green Accent Wall
Bright, intimate, and cozy! Grab your coffee and a good book, lie down on the sofa, and get lost in the novels! A simple shelving system allows to shine the green out while providing a storage area with its cabinets.
Beautiful Home Library Design Ideas in Different Styles!
There's something special about the home library ideas that gives relaxation and creates visual beauty. If you are a bookworm and you have a book collection lying in your home, you can find some inspiration from these beautiful home library ideas in our gallery.
Do not afraid to show books with home libraries!
We are in the digital age but the feeling of a good book in your hands is indefinable. When it comes to design a home library, from staircase bookcases to shelves, the opportunities are endless. You can store books on simple bookshelves or place a wall library that is dedicated to your house. Also, creating a true space for books adds a focal point to your home no matter how classic or transitional, rustic or eclectic. With these stunning home library ideas, you can create comfortable, personal, and unique designs in your home!
You can incorporate a library in your living spaces, kitchen, or even into your bathroom!