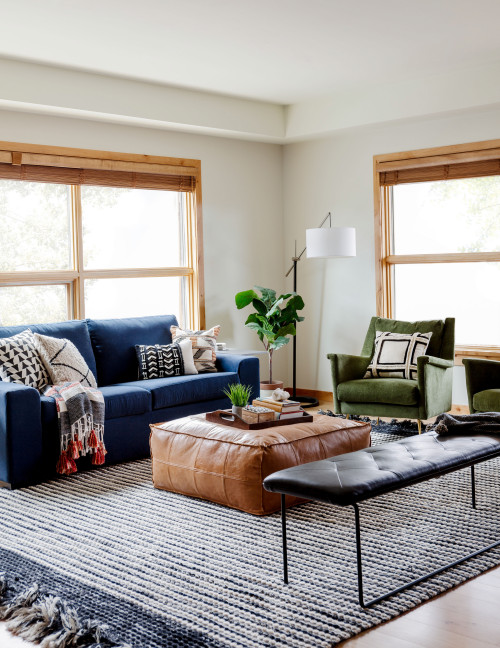 ID# 114902 | Houzz.com – Credit | © Studio Felix
---
Blue Sofa with Green Armchairs and Leather Pouf
Using bold and rich colors is an effective way to create a cozy atmosphere. In this contemporary living room, the blue sofa and green armchairs are completed with a brown leather pouf as a coffee table and a black leather bench. The white floor lamp brings a modern appeal while the blue and white rug complementing the cozy feel.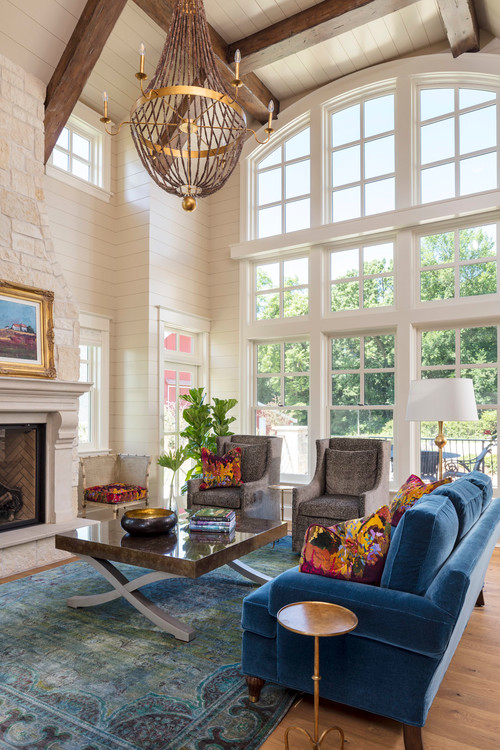 ID# 114913 | Houzz.com – Credit | © Lappin Lighting
---
High Ceiling Farmhouse Living Room with Glamorous Chandelier
This farmhouse living room design perfectly blends the cozy and luxurious elements. The blue velvet sofa and colorful pillows create an impactful design. Gray armchairs, wood coffee table, and blue traditional rug in a harmony with the blue sofa. The glamorous chandelier hung from the exposed beams.
Warm, Comfy and Cozy Living Room Ideas
Living rooms are one of the most used spaces in homes and all we want is to lie down and relax on a comfortable sofa after a long day. There is nothing more relaxing yet inviting space than a cozy living room. Here are the best cozy living room ideas that you want to snuggle up in!
A mix of layers, natural textures, and rich textiles
A cozy living room is something everyone would want. We seem to hear you ask the following question: How can I make my living room feel cozy? You can give this coziness with a large comfortable sofa, an inviting warm color scheme, or a fireplace. Also, using richer textures is a great option to make your living room much cozier. You can go with a mix of cushions, pillows, faux-fur, and fabrics to create an ultimate coziness. Whether your choice is eclectic room furniture or traditional textiles, your living room will become an inviting space with a cozy atmosphere.
Sometimes it is hard to find a balance between the cozy and functional but do not worry. Scroll down and find design tips and tricks about cozy living room ideas.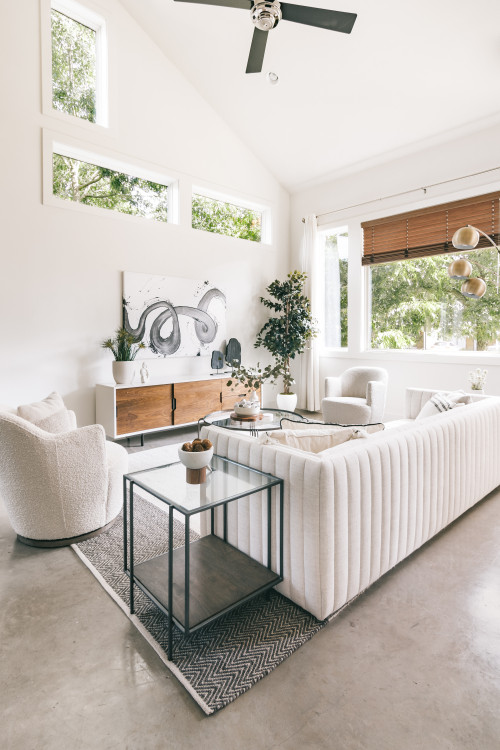 ID# 114901 | Houzz.com – Credit | © Birch & Brass
---
Contemporary Cozy Living Room with White Sofa
The combination of the soft color palette and wood textures offers a stylish cozy living space. In this living room, each piece of furniture has a characteristic appearance and design. The white comfortable sofa is a great mid-century & retro addition. The white curly armchairs are sculptural designs that invite you to relax. Instead of hanging a tv, a beautiful black and white art piece hanged above the wooden console. Glass side tables and coffee tables give an open and airy feel with their glass tops.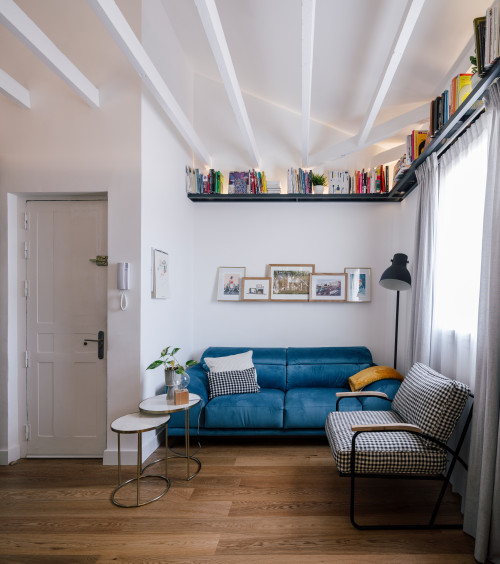 ID# 114904 | Houzz.com – Credit | © Unode Estudio
---
Small Cozy Living Room Ideas with Black Floating Shelves
If you do not have a large space, you need to consider clever storage solutions. In this small apartment living room floating shelves are placed close to the ceiling which creates an open and airy feel. Besides that, black floating shelves provide visual interest with colorful books. The blue sofa and black and white armchair turn the living room into a cozy reading nook with the help of the library.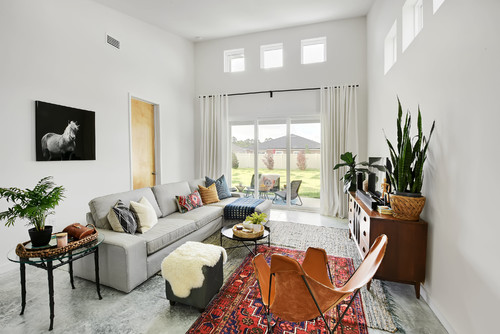 ID# 114905 | Houzz.com – Credit | © Content Modern
---
Modern Cozy Living Room Ideas with Gray L-shaped Couch
The modern living room offers a stylish design with colorful textiles. Colorful pillows, traditional rug, and faux fur on the black pouf complete the cozy atmosphere in the room. This layering gives a bit of an eclectic vibe. The clever layout of the room and high ceiling create a bright and spacious atmosphere.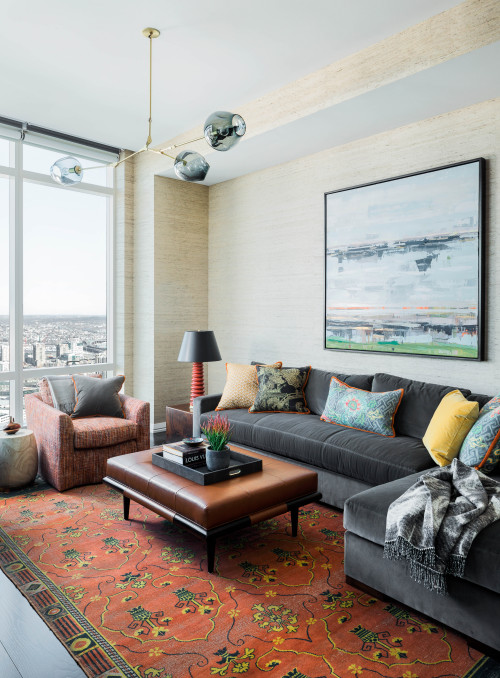 ID# 114906 | Houzz.com – Credit | © Katie Rosenfeld Design
---
Comfortable Gray Couch with Leather Ottoman and Bubble Chandelier
In this contemporary interior design, a comfortable gray l-shaped sofa and red armchair serve a cozy and inviting atmosphere. The colorful pillows increase the coziness in the room while the brown leather ottoman as a coffee table makes an elegant modern touch. The bubble chandelier supports this modern look while beige wallpaper and oversized painting creating a serene backdrop.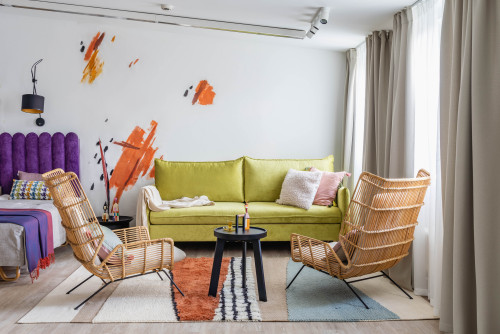 ID# 114907 | Houzz.com – Credit | © Дизайн-студия US Interiors
---
Rattan Armchairs with Colorful Patterned Rug
The combination of the contrasting rich colors offers a joyful living room design. The green sofa stands out in front of the white wall. The orange brushstrokes turn the blank white wall into an abstract piece of art. Rattan armchairs and colorful patterned rug enhance the cozy feel in the space.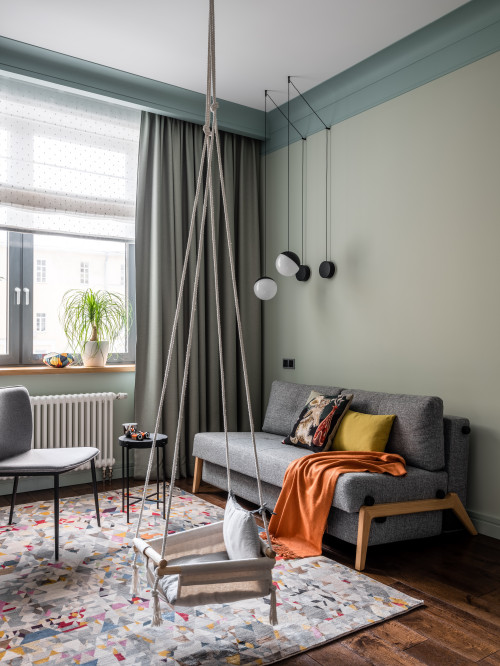 ID# 114908 | Houzz.com – Credit | © Planka
---
Small Family Room with Pastel Green Walls and Curtain
If you have a small living room, you need to avoid putting too many objects and furniture in it. Also, you need to consider space-saving solutions like this hanging chair. Besides its function, the kids hanging chairs create an open and airy feel without disturbing the design flow. The pastel green wall paint gives a calm and relaxing look and in a harmony with the gray sofa and chair. The colorful patterned rug brings texture to the room without overwhelming.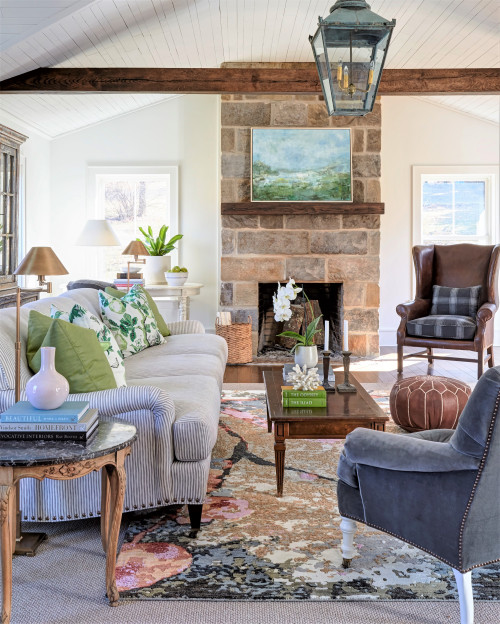 ID# 114909 | Houzz.com – Credit | © Stephen Shutts Design
---
Farmhouse Living Room with Stone Fireplace
If you are lucky enough to have a fireplace, it means that you have already had a cozy atmosphere. In this farmhouse living room, the stone fireplace makes a statement and creates a focal point. The blue and white striped sofa, gray and leather armchair, wooden coffee table, and colorful rug complete the cozy farmhouse-style.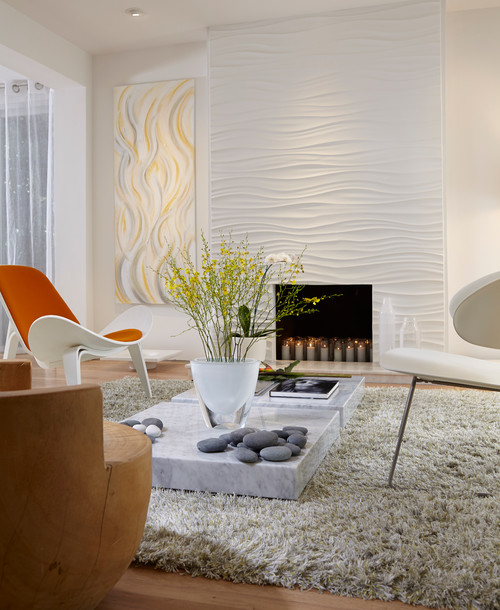 ID# 114910 | Houzz.com – Credit | © J Design Group – Interior Designers Miami – Modern
---
Unique Cozy Living Room Ideas with Gray Curly Rug
What a unique and beautiful living room design! The fireplace is covered with white wavy panels which add a beautiful texture to the design. The abstract painting complements these panels. Two marble slabs were placed between the armchairs and used as a coffee table on the curly gray rug.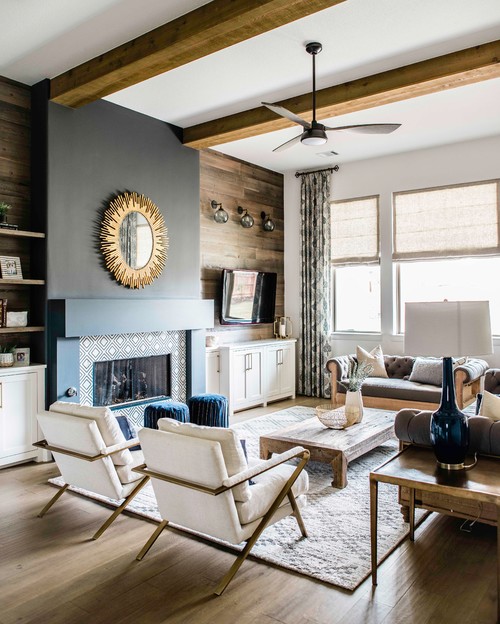 ID# 114911 | Houzz.com – Credit | © Bandd Design
---
Cozy Living Room Ideas with Navy Blue Painted Fireplace
The navy blue painted, and tiled fireplace is the focal point of this modern rustic living room. The starburst mirror emphasizes the fireplace design. Besides the elegant look of the navy blue, natural wood textures and soft color pallet offer a cozy and warm atmosphere. The fireplace is accentuated by the wooden panels on both sides which add a charming vibe of the rustic style. The blue patterned fireplace tile adds a nice texture.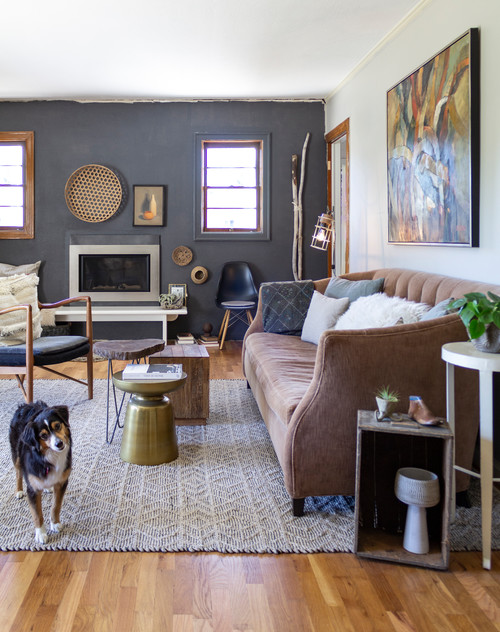 ID# 114912 | Houzz.com – Credit | © JulieO Design
---
Farmhouse Living Room with Black Accent Wall and Decors
A mix of textures, tones, materials, and the rich color palette creates an elegant and welcoming living room with a brown sofa, black and white patterned rug, colorful pillows, abstract painting, wood floor, and black accent wall with some decors.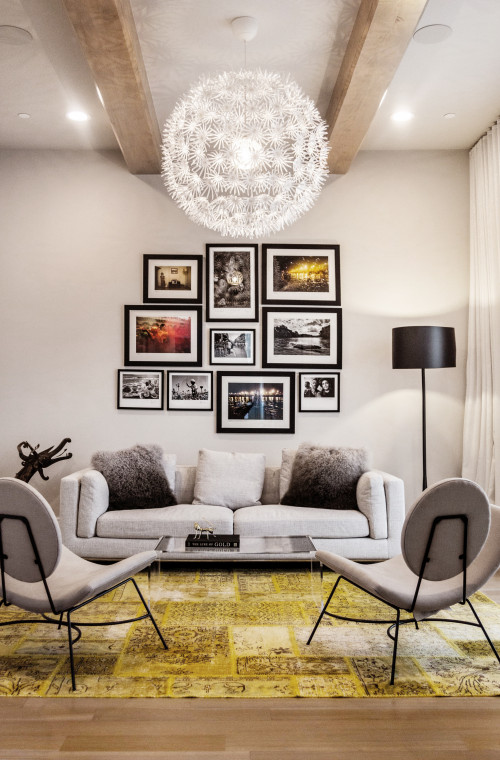 ID# 114914 | Houzz.com – Credit | © Beyond Interior Design, LLC
---
Gray Sitting Group with Green Rug and Gallery Wall
The cozy living room incorporates a green patterned rug which adds visual interest to the design. The gray sofa and armchairs provide a comfortable seating area while the gallery wall creating a contrast with the black-framed photographs. The oversized white pendant light hung between the exposed beams and makes a warm glow.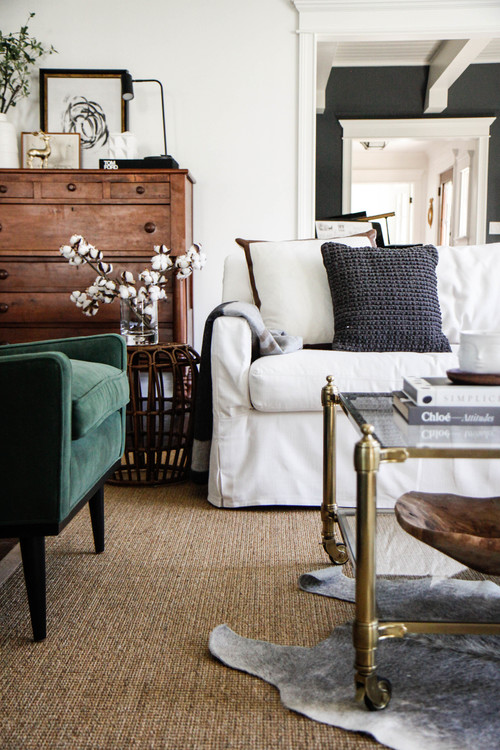 ID# 114916 | Houzz.com – Credit | © Park and Oak Design
---
White Sofa with Green Armchair and Beige Carpeted Floor
Layering is the key point of a cozy living room. in this farmhouse kitchen, natural wood textures and rich fabrics come together harmoniously and offer a cozy and intimate atmosphere. The glass coffee table makes a glamorous vintage touch with its brass finish.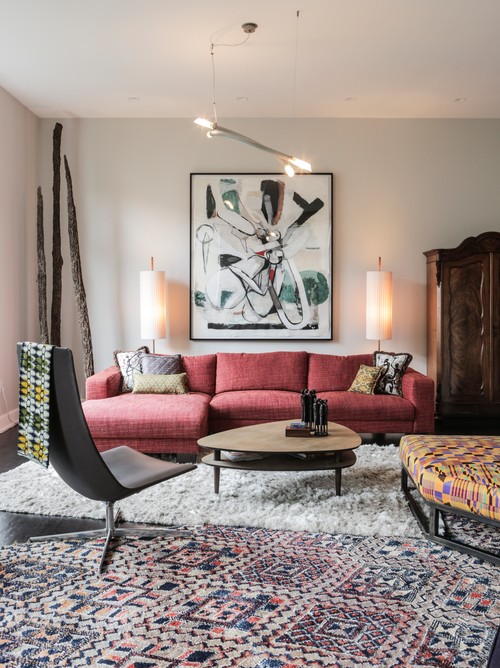 ID# 114918 | Houzz.com – Credit | © JK Walters Inc
---
Cozy Living Room Ideas with Red L-shaped Sofa
Thank the large comfortable red couch, this living room turns into a perfect resting nook. The combination of the different patterned textiles gives an eclectic vibe while oversized artwork creating a focal point behind the sofa. The floor lamps and metal chandeliers make a warm glow and create a dramatic atmosphere.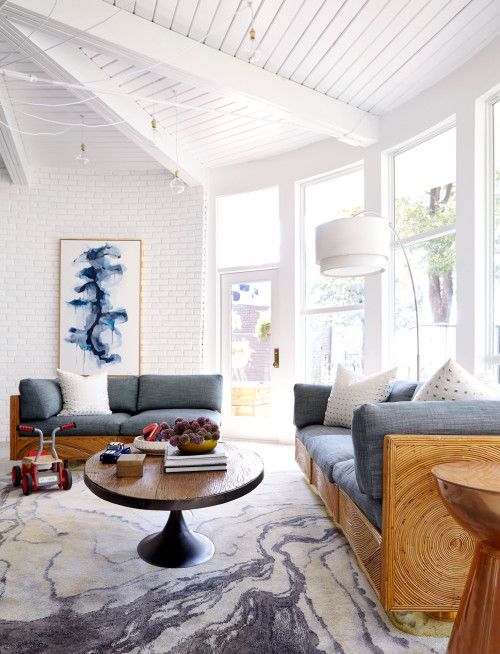 ID# 114919 | Houzz.com – Credit | © Maestri, LLC.
---
Wood Sofas with Gray Cushions and White Shiplap Ceiling
Thank the white walls and white shiplap ceiling, the living room has a bright and spacious atmosphere. Comfortable gray cushions of the wood sofas and wood coffee table serve a cozy atmosphere. The blue patterned rug looks like a marble which adds a dose of luxury to the design. the white shiplap ceiling, exposed beams, and spider chandelier perfectly contribute to the overall look.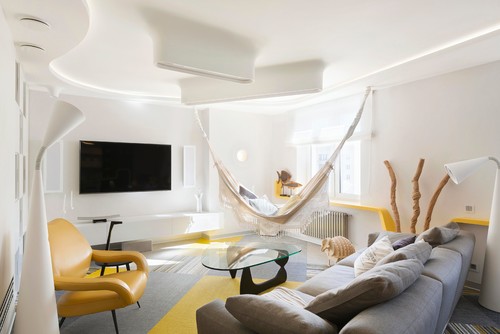 ID# 114922 | Houzz.com – Credit | © Петухова Нина
---
Contemporary Living Room with Gray and Yellow Color Palette
Including a hammock is an interesting design but it works well! The beige hammock adds a comfy room feel to this contemporary living room with a gray sofa, glass coffee table, gray and yellow carpeted floor, and white walls.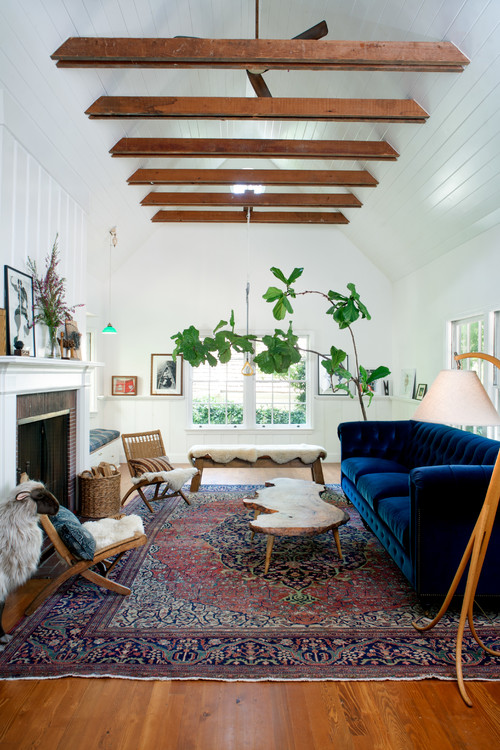 ID# 114903
The shiplap ceilings and exposed beams already offer a charming farmhouse style. The combination of natural wood textures and traditional patterns brings a cozy feel into the room. Blue Chester sofa popping up on the traditional carpet in this natural atmosphere! It contrasts with the wooden elements and gives a luxurious feel with its blue velvet fabric. Green plant supports the natural look. The custom floor lamp looks stunning.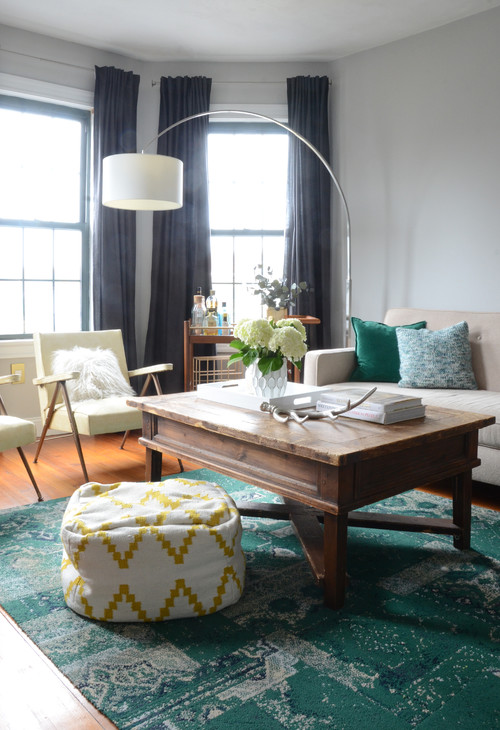 ID# 114915
---
Beige Armchairs with Wood Coffee Table and Green Rug
The natural wood textures and a lovely shade of green bring the beauty of nature into this farmhouse living room with a beige sofa, armchairs, yellow patterned pouf, floor lamp, black floor to ceiling curtains, wood coffee table, and green rug.
---
Leather Armchairs with Glass Coffee Table and Black Fireplace
The black fireplace is a statement maker! It creates a sophisticated look between the white libraries. The frameless mirror above the fireplace makes space feel larger. The gray sofa and traditional rug give a cozy feel while leather armchairs and glass coffee table bringing a contemporary appeal.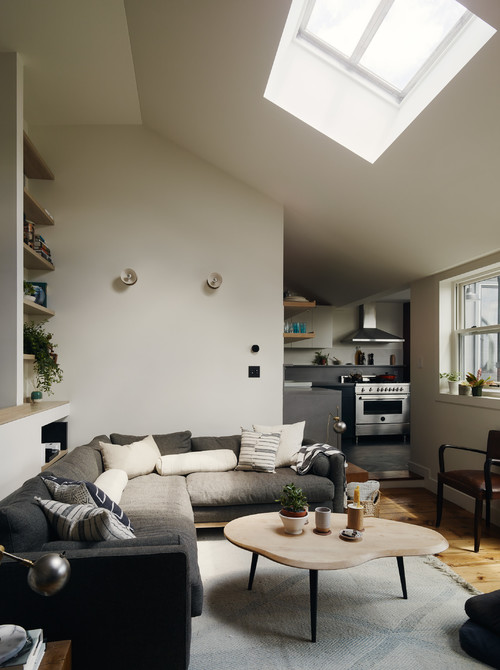 ID# 114920
---
Gray L-shape Sofa with Wood Coffee Table and Skylight
The natural light comes through the skylight and offers a perfect resting nook with a gray l-shape sofa and cream cushions. The wood coffee table on the gray rug softens the design with its curved edges. The built-in wood shelves provide additional storage and also visual interest.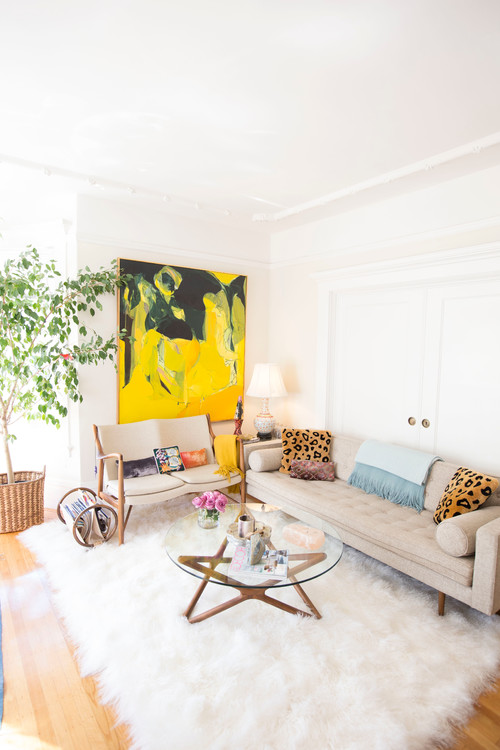 ID# 114921
---
Cozy Living Room Ideas with Soft Color Palette
The yellow and black painting pulls the attention at the first sight in this beige soft warm living room. The soft color palette offers a calm, comfy living room design with beige sofas, a glass coffee table, a faux fur rug, and a light wood floor. the greenery plant brightens the atmosphere.